Concrete Pavers Lend Curb Appeal To Steps, Staircases and Stoops
May 5, 2015
By Charles H. Gamarekian
Most homeowners and real estate professionals would agree that the walk-up to a home should be inviting, not forbidding. Making sure that address numbers are in place and polished, the front door and gutters have a fresh coat of paint, and placing a few embellishments like a seasonal wreath, an attractive welcome mat, and a potted plant are among the most favored preferences. But what about the staircase and front stoop? Because they are usually the most prominent structure to be encountered as someone walks toward the front entrance, front steps can make a positive first impression or detract from everything else that is done to augment the curb appeal of a home.
Front stoops are part of the landscape of American homes. In large cities and small towns, they welcome visitors and present a spot that leads up to the front door for neighbors to chat. The term stoop dates back to the Dutch word "stoep", while the American stoop (aka staircase and landing) was first identified in the neighborhoods of the Hudson River Valley and New Amsterdam. Today these entryways grace inner city brownstones, suburban homes, and rural farmhouses. Personalization is as diverse as the personalities of the home's residents. The design/build of one can be as complex and costly as one chooses to make it.
The selection of materials ranges from lumber, cement block, brick and bluestone, to modern-day hardscape products such as concrete pavers, manufactured wallstones, and cast stone steps. The latter offer certain advantages over the others - ease of installation, structural durability, stylish options, and variety of colors that can be more likely to match or coordinate with inherent characteristics of the home as well as any adjoining, interlocking paver walkways.
Hardscape product manufacturers such as Cambridge, makers of Cambridge Pavingstones with ArmorTec® in colors that are made to endure the rigors of wear and climate changes, and Cambridge Wallstones developed with advanced laser technology for accurate fit, offers products especially suited for steps, staircases, and landings.
Staircase Filler Block can be used along with other wall products from Cambridge such as MaytRx® 6-inch and or Stretcher Stone in the building of a staircase and landing. As a result, a set of steps can be built without leveling and compacting the center of each layer. Because there will be less cleanup, your contractor will save time in addition to costs associated with the transportation of bulk stone and the compaction of aggregate that is typically used to fill in the void in the center of steps and a porch. Cambridge Pavingstones are available in an array of colors, shapes, and textures for the top surface of the landing and Cambridge Large Caps or Bullnose pavers are ideal choices for the treads.
Consider making the landing large enough to accommodate a functional bench or sculpture and construct it in a dimension that relates proportionately to the size of the home. A trained and experienced contractor can help with determining the best dimensions and configuration for you. Cambridge Wallstones come in handsome faces and textures that are particularly attractive when the stoop extends beyond the width of the staircase. Iron railings can be attached or sidewalls of wallstones with manufactured Cambridge Bluestone caps can define the perimeters and offer a more permanent feeling that assimilates into the whole design.
Interesting finishing touches can be added such as decorative columns, which can be custom designed or purchased fully assembled and in pre-packaged kits from Cambridge along with various capping options. A Cambridge Cast Stone Light Column Cap in a pyramid design with a flat surface on the peak for a light fixture is but one of a number of choices. Cambridge Corner/Column and Wall/Tread Lights can provide additional safety and ambient illumination.
If your front yard is sloped, a gradual assent can be accomplished with two or more staircase landings connected by straight, angled or winding paver walkways. Staircases made of pavers and wallstones also work well at the back door and next to patio door sliders. This option combines form and function when making the transition to a small patio, outdoor room, pool deck or garden path that requires one or more steps down. For maximum convenience, 6-inch thick Cambridge Cast Stone Steps, sold separately in 48" and 72" lengths, or a Cambridge Cast Stone Stair Kit will also minimize installation time.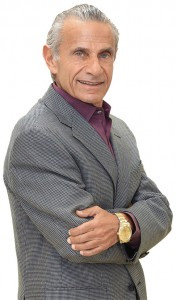 All of the aforementioned minutia speaks to a larger truth. According to veteran real estate agent for Weichert Realtors, Michael Machinski, exterior curb appeal is just as important, if not more important, than interior curb appeal. "When a buyer drives up to your house and gets excited by what he or she sees," explained Machinski, "he or she will be anxious to cross over that threshold to see what's inside." Marketing a home is all about psychology; getting into the mind of the buyer and creating that "WOW factor". Homeowners will find it encouraging knowing that Cambridge offers the added value of a fully-transferrable lifetime warranty if and when it comes time to sell your home.
About the writer: Charles H. Gamarekian is the Chairman/CEO of Cambridge Pavers Inc. He is one of the founders and a current board member of the Interlocking Pavement Institute. Organized in 1993, ICPI is the North American trade association representing the interlocking concrete paver industry and considered by peer associations around the world as the leader in development and dissemination of technical information for design professionals and contractors. Mr. Gamarekian is recognized worldwide as an expert in his field and is a frequent speaker on the proper installation of pavingstones, wallstones and many outdoor living products.