"How to Create your Dream Outdoor Living Space" Part Two- Planning
March 07, 2018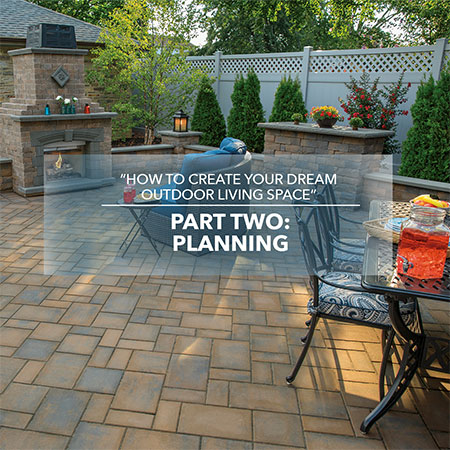 You've done your research, you've found your inspiration imagery, now it's time to really start planning this project! This is where things start coming together. It's time to sit down and think about realistic goals, timeline, and installation.
Budget
Planning your dream outdoor living space can be quite an investment depending on what you are looking for. It's imperative to set a budget for yourself. This may mean you have to create your ideal outdoor living space in phases- but that's ok! A lot of people do projects at a smaller scale over an extended period of time. Remember Rome wasn't built in a day! Perfection takes time. If you need further assistance there are plenty of financing programs that you may be eligible for.
Prioritizing
Working with a budget usually means you're going to have to prioritize what meets your budgets parameters. You'll have to figure out what job needs to be completed first. For example, if you want an outdoor kitchen and patio done, you'll have to think about gas, electric, and plumbing before you think about putting the patio down. If you're having trouble coming up with a budget or prioritizing your project, you should refer to your contractor to guide the way.
Choosing the right contractor
Choosing the right contractor can make or break your project. Do your research! Even if you've been referred to by a family or friend, look up reviews. Yelp, Facebook, and Google are your friends- use them. Make sure the contractor is ICPI certified, and credible. When you schedule a meeting with your proposed contractor, do not hesitate to ask any and all questions you have regarding your project. This includes asking your proposed contractor for work samples or projects he's done in the past. Many contractors post their work on social media, so you may have already seen it.
Visualize
Last but not least, you should be receiving a visual outline of what your project will look like once completed. Your chosen contractor should have an 2D outline done, but keep in mind, you also have the option to ask him for a 3D visual of what your backyard will look like in the near future. There are plenty of tools that you can actually use yourself to create that final visual.