CAMBRIDGE PAVINGSTONES ARTICLE
A WALL CAN CREATE A NEW FEELING OF FREEDOM FOR HOMEOWNERS
By Charles Gamarekian
Merriam Webster defines the word wall as "a solid structure (as of stone) built to enclose or shut off a space." In my personal experiences, a wall, contrary to how this publisher of dictionaries and most of us tend to categorize one, can represent a conduit to freedom for homeowners considering a front or backyard makeover. Today's manufactured wall systems not only bear resemblances to natural stone in colors, textures and styles, but also offer amazing versatility in a host of far-reaching applications. As a result, the "freedom factors" can range from easy to install systems and maintenance-free product life cycles to an almost endless liberty in expression that combines the ability to "free up" areas of your property for enhanced outdoor living experiences.


Tall wall, short wall?... Straight wall, curved wall?
Let me begin my answer to these frequently asked questions by first bringing up some facts about manufactured wall systems like those produced by Cambridge - makers of Cambridge Pavingstones with ArmorTec® and Wall Systems with Laser Fit™ technology. Manufactured wallstones are more than just functional, and when properly installed, should in no way be compared to painted or texture-faced, cinderblock landscape wall units that are subject to chipping, peeling, cracking, dislodging and more importantly, structural failure - a faux pas that usually mandates an aftermath of serious corrective and costly measures in coming years.
Manufactured walls, due to their tailored characteristics and tight fit, are far less apt to harbor small animals and debris in crevices left between rocks in a natural stonewall. And they are virtually carefree. Also, when matched up to the more popular varieties of natural stone, manufactured wallstones are usually a far less costly material to purchase and more accessible. Thanks to the plethora of natural shades and textured faces offered by today's hardscape product manufacturers like Cambridge, there is little or no compromise in attaining desired aesthetics together with architectural compatibility.
Wallstones from most leading manufacturers are commonly available with single-sided or double-sided faces in natural rock texture and/or distressed (aged-looking) styling. The choice is personal and also depends largely on the purpose and height of the wall you are planning to build and what surfaces will be exposed once the system is installed. Some styles from Cambridge are available with right or left corner units, which will minimize or eliminate cutting by the contractor. Because of their modular configurations, the wall units can be easily arranged in staggered and/or running bond patterns, in randomly placed positions, or utilized in interesting adaptations of both that give less or more of a personalized design. And for the "free-spirited", don't be afraid to mix and match colors and even textures and styles to create subtle contrasts along the length of the wall. For ideas that utilize wall systems in an array of applications go to cambridgepavers.com or visit a nearby Authorized Cambridge Distributor.
Freedom of choice
Manufactured wall systems offer homeowners and contractor/designers the opportunity to make intuitive choices that can repurpose otherwise unusable outdoor spaces in a host of cohesive applications. Contingent on the attributes of the products selected, straight, curved and serpentine walls, steps and staircases, decorative and functional column kits with mailbox inserts and pre-lighting options, as well as various types of space-defining walls, can be integrated into your property. Solutions such as issues associated with a sloping terrain, building an elevated garden bed, employing a viable alternative to perimeter fencing, creating a raised patio and casual seating areas are all within creative reason.
Generally, design/build of higher, engineered walls (3 ft. or over) can be accomplished with wall systems such as Cambridge Sigma™. Originally developed for large, commercial installations, Sigma™ single-sided wallstones also provide great advantages for smaller and larger residential wall projects. Homeowners and contractors whose requirements demand an engineered system can find assistance through the Cambridge website that provides a complete guide to planning, bidding, engineering and building this type of wall system.
My advice is to start off with an open-minded and interactive discussion with one or more landscape architects or reputable hardscape contractors who can develop an action plan that combines both form and function (perhaps with a creative spin that sparks your imagination). All or any of the aforementioned systems can be posed with the same style as other wall units and coordinated with nearby pavingstones as well as surrounding natural elements.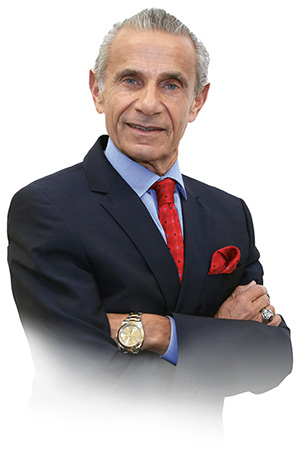 Chances are you will be able to get the logistics out of the way before next spring. Tell a professional how you want typically impractical aspects of areas around your home to be transformed into viable assets that can impact yours and your family's outdoor lifestyles, curb appeal and home value. Keep your eyes open for ideas to be found around your neighborhood, online at various websites and in social media resources where you can see how other homeowners have accomplished specific objectives through the surprising versatility of manufactured wall systems.
About the writer:
Charles H. Gamarekian is the Chairman/CEO of Cambridge Pavers Inc. He is one of the founders and a current board member of the Interlocking Pavement Institute. Organized in 1993, ICPI is the North American trade association representing the interlocking concrete paver industry and considered by peer associations around the world as the leader in development and dissemination of technical information for design professionals and contractors. Mr. Gamarekian is recognized worldwide as an expert in his field and is a frequent speaker on the proper installation of pavingstones, wallstones and many outdoor living products.