STEPS & STAIRS
Durable Cast Stone Stairs, Treads, Palisades 4-Piece Set and Stepping Stones from Cambridge offer both beauty and convenience in addition to being a far more affordable substitute for natural bluestone, granite and other natural stone materials.
The choice of colors, inspired from their natural counterparts, along with the variety of stylish options will coordinate nicely with styles and colors of Cambridge Pavingstones and Wallstones as well as Cambridge Outdoor Living Products.
Cambridge Cast Stone Steps
For maximum convenience in creating landscape steps, the 6" thick treads are available in 48" and 72" lengths (sold separately) and also as a pre-packaged kit containing the ten pieces of cast stone needed to complete a staircase with four steps as shown. A choice of Bluestone or Chestnut will coordinate beautifully with all Cambridge Wall and Pavingstone colors as well as natural stone and other landscape materials. Shown in Bluestone
Available Colors: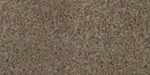 Chestnut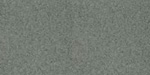 Bluestone
| | | |
| --- | --- | --- |
| 48" Wide, 16" Deep and 6" Thick | | 72" Wide, 16" Deep and 6" Thick |
---
Cambridge Cast Stone Palisades 4-Pc. Step Set
From molds inspired by outcrops on cliffs, steep hillsides, mountain ridges, river banks and other bedrock formations and protrusions, the 4 pieces - each having distinctive characteristics of their own - can be stepped back, rotated and positioned in dozens of ways. Up to 8 different face and edge textures can be utilized to build a staircase of inimitable appearance.
Palisades Shape
- 1 Piece Shown In Bluestone
Size (All 4 Pieces): 6" Thick - 32" x 48" (Outside Dimensions) Irregularly Shaped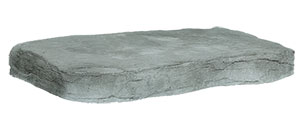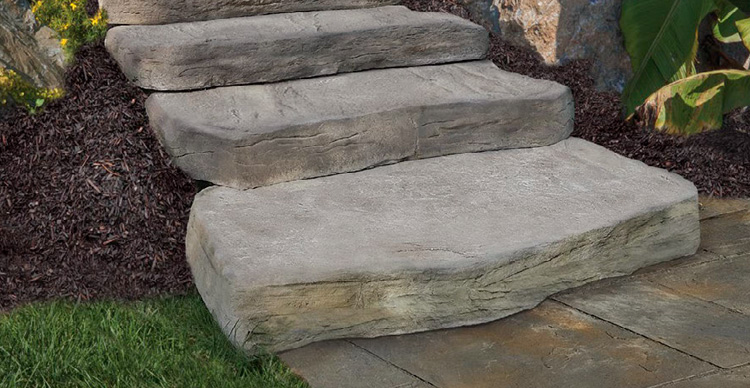 Available Colors: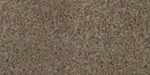 Chestnut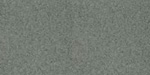 Bluestone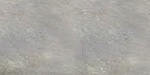 Boulder Blend
---
Cambridge Stepping Stones
Create the look of a natural stone pathway in gardens and other outdoor settings using 6 different, irregularly shaped stepping-stones. Position the stones randomly in a path design of your liking and separate them with grass, pebble stones or mulch.
Stepping Stones Shapes
- Chestnut Shown
Sizes: All 2" Thick - One Is 18" x 22 1/2" - Five Are 17" x 23 1/2" - (Outside Dimensions)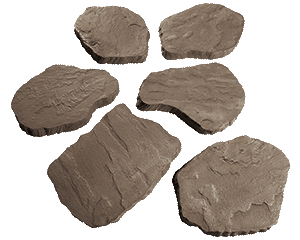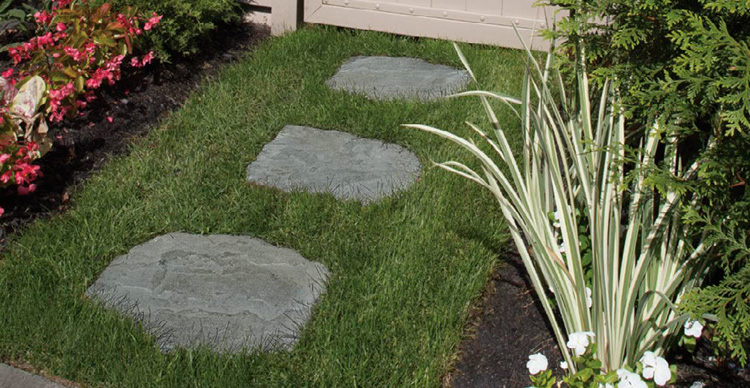 Available Colors: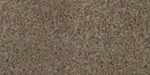 Chestnut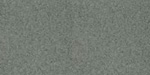 Bluestone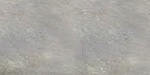 Boulder Blend
---
Cast Stone Products Warranty:
Cambridge Pavers, Inc. warrants to the original purchaser (with a proof of purchase) that should the Cast Stone products (Steps, Caps, Ledgestone Cast Stone, or Cast Stone Slab 3 Pc. Design Kit) installed according to industry standards and in compliance with our installation guidelines, prove defective, it will be replaced without cost. Replacement labor is not included. This Warranty is good for as long as the original purchaser owns the real property on which the Cast Stone was installed. Cast Stone products meet or exceed ASTM C672. The use of de-icing salts (sodium chloride (NaCl)) will alter the surface texture of these products over time. Cambridge cannot guarantee the color match of any replacement units. Cast Stone products can not be compacted.