Valentine's Day Gifts for Outdoor Enthusiast
February 12, 2018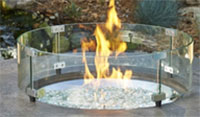 Fire Features
Outdoor enthusiasts love anything that extends their stay outdoors. A great gift to give your loved one is the gift of warmth this season. Heat things up with a fireplace or firepit. An outdoor fireplace or firepit is the perfect way to create an environment that allows you to stay out longer. If your special someone already has a firepit, surprise them with firepit accessories. Change up the mood with some new colored fire pit glass stones or keep it toasty and warm with a firepit glass guard! Nothing says romance like cuddling up in front of a snug fire.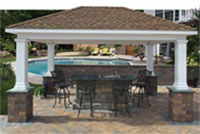 Pavilions and Pergolas
Installing a pavilion or pergola is another great way to extend your time outdoors. Your outdoor enthusiast will love this addition because these features not only beautify your outdoor space, but also serve to protect you against the elements such as wind, rain, and even snow! For colder seasons, some pavilions and pergolas can even have walls added to it, creating the look and feel of an "outdoor room". A pavilion or pergola would be the perfect place to set a candle lit dinner for your sweetheart this valentine's day.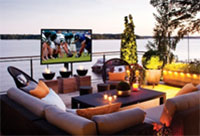 Outdoor Television
If you're someone who likes to cozy up on the couch and watch TV, but your partner likes to go outside and relax on the patio, then you should consider investing in an outdoor TV! These TVs are made of durable materials that resist water, humidity, and insects. Most of them can tolerate extreme heat or cold. Living with an outdoor enthusiast gets difficult, but this is definitely the ultimate way to get the best of both worlds. Spend your special day with your special someone watching a romcom outdoors!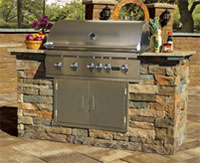 Outdoor Grill
What better way to surprise your outdoor enthusiast than with a warm meal under the stars. Anyone who loves being outdoors can appreciate cooking outdoors which is why an outdoor grill, kitchen kit, pizza oven and or even bar would all be great presents for your valentine!