3 Reasons to Add an Outdoor Kitchen to your Backyard!
July 08, 2015
There''s no need to go out to get a gourmet meal! Gain a new appreciation for your backyard with a new outdoor kitchen and grill. Here are three benefits of updating your outdoor living space.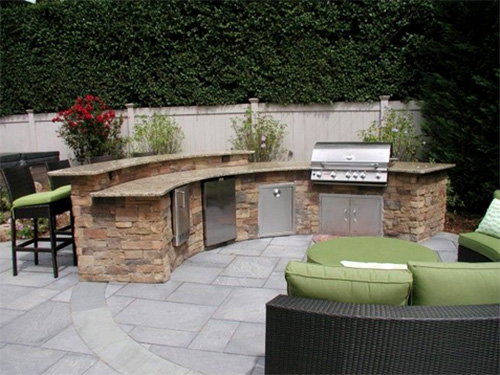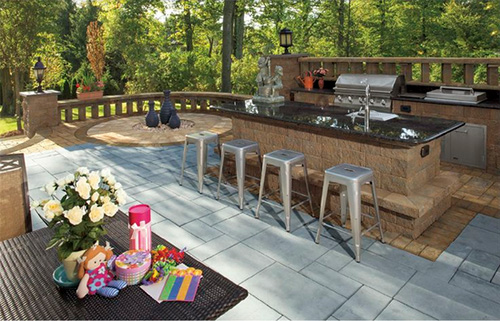 1. Perfect place to spend time with family: Summer is here, it''s only natural that you and your family are spending more time outside. Outdoor kitchens provide open space and a wide variety of seating options, making them an ideal place to spend time with your friends and family. You can place chairs around your outdoor kitchen and eat dinners together after barbecuing on the grill or you can add a bar to your outdoor kitchen, which creates more seating and lounging space for your family and friends. Relax in the beautiful weather with chilled refreshments and great company!
2. Added Convenience: Outdoor kitchens and grills make backyard barbecues convenient. They''re easy to clean and have the ability to cook all of your favorite summer foods. From meats and vegetables to rotisserie, outdoor kitchens can handle it all. Aside from cooking all of your favorite foods, the fully-assembled kitchen with grill has amble storage space for all of your utilities and refrigerated items. Once you start cooking outside, there is no need to return inside for those extra utensils or ingredients.
3. Easy installation: Did you know that your outdoor kitchen can be installed in less than a day? Cambridge Pavingstones with Armortec offers outdoor kitchen kits that are delivered in four, fully-assembled pieces that ensure you and your family will be enjoying your kitchen and outdoor living space in no time. Cambridge kitchens can be designed in a "L" Shape, "U" Shape or straight line, you choose which shape works best for your outdoor living room. You''ll also choose the style and color of the pavingstones, the granite countertops and the stainless steel appliances. The possibilities are endless!
Enjoy cooking and grilling for your family and friends with a stylish and attention-grabbing outdoor kitchen and grill. Find your authorized Cambridge Distributor and begin designing your dream outdoor kitchen today!