Home and Garden Shows are the Gateway to a Great Outdoor Lifestyle
January 16, 2015
With the 2014 Holiday hullabaloo behind us, many families turn toward planning a relaxing get-away to a far-off paradise to dream away the winter doldrums while others see opportunities to also find paradise a whole lot closer - in their own backyards. January, February and March are the months when we see spring home, flower, and garden shows popping-up throughout the area. The shows provide a Mecca of local resources for everything from plantings to patios all shown in provocative displays. And homeowners can find early bird discounts and special promotions on most everything on their spring to-do-list.
Exhibitors spend a great deal of money and time presenting products and services in the best possible light. Exhibitors include product manufacturers and installers, and in many cases where productive partnership relationships have developed, both co-exhibit to bring the best of both worlds. You''ll find their displays are amazingly realistic-looking and idea provoking. Look for booths that catch your attention by displaying inspired techniques and professional expertise. For a backyard makeover, you''ll catch the latest tends in pavement products such as interlocking concrete paver systems as well as landscape walls, spas and poolside areas, and outdoor living rooms. Contractors with a bent for creativity will enjoy showing you samples of how their company''s hardscape products and installation ideas will address the outdoor lifestyle interests of each and every family member.
For instance, outdoor cooking aficionados may be interested in replacing that ancient
barbecue grill on wheels with an outdoor grill island or fully functional kitchen. An outdoor pizza oven will allow the cook in the family to bake authentic pizza pies as well as make homemade breads and roasted vegetables while a built-in smoker grill rounds out the menu options to include wood pellet-smoked meats and regional American foods. Gardeners will appreciate how hardscape materials are used to create tree rings, edging on garden beds and various types of single height and tiered landscape walls. Chances are the information will be all there for the taking.
For "couch potatoes", sitting around an outdoor fireplace with optional, lighted waterfall extensions may be a dream-come-true. There are gas and wood-burning fire pits, illuminated water features, a fire table and ideas for paver colors and pattern styles as well as casual seating options made of wallstones and much more to consider and learn about. Leading manufacturers offer these conveniences and more. Cambridge, makers of Cambridge Pavingstones, wallstones and outdoor lifestyle enhancements, is a pro-active participant at home shows. The company has a comprehensive line of both pre-packaged and products delivered to your home fully assembled so the transition from inside to outdoor living can come quicker than you may expect.
Upon entering an exhibit area, usually at large convention halls or arenas, don''t be surprised to find displays and booths from an array of vendors selling the same products and services. Many exhibitors will coax you with very aggressive sale pitches. You may recognize names from media endorsements in articles that you have read and television commercials and print advertising that you have seen. However some of the best confidence-builders can come from their exposure on popular social media and consumer blogs. Do some "searching" before you head off to a show. Also, you may get the best recommendations from friends, neighbors and relatives who have had similar services performed around their homes.
Additional online information gathering often points to manufacturer websites. The better ones are very robust with easy-to-navigate content ranging from photo galleries and relevant articles to discernable product information and step-by-step installation details. Some offer design software that will allow you to preview a completed project in minutes using professional-quality, digital renderings. The Cambridge DesignScape Visualizer™ software is just one online resource at cambridgepavers.com.
Do-it-Yourself
If you are ready to jump right in to a do-it-yourself project, look for announcements from local masonry suppliers who are hosting workshops along with hardscape manufacturers like Cambridge. Topics include hands-on demonstrations for building a patio, walkway, driveway, retaining wall and other very doable initiatives. Hands-on demonstrations and instructional videos provided by hardscape manufacturers like Cambridge followed by question and answer sessions are commonplace. You can also visit an Authorized Cambridge Distributor where displays and product samples are always available.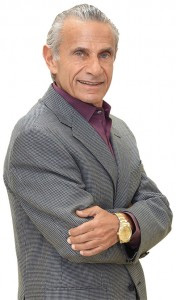 About the writer:
Charles H. Gamarekian is the Chairman/CEO of Cambridge Pavers Inc. He is one of the founders and a current board member of the Interlocking Pavement Institute. Organized in 1993, ICPI is the North American trade association representing the interlocking concrete paver industry and considered by peer associations around the world as the leader in development and dissemination of technical information for design professionals and contractors. Mr. Gamarekian is recognized worldwide as an expert in his field and is a frequent speaker on the proper installation of pavingstones, wallstones and many outdoor living products.