Pavers Set Luxury Standards at Recreational Spots and Residential Communities
November 22, 2014
I have watched the residential landscape change dramatically over the past three decades as interlocking concrete pavers slowly but surely earned the respect of architects, landscape architects and designers and more importantly among homeowners who appreciate their aesthetic and long-term value. As we walk the sidewalks and crosswalks of Main Street USA and visit neighborhood parks, we cannot help but notice the ever-growing appearances of pavers in downtown renaissance and new municipal project initiatives. Corporate and university campuses have also turned to interlocking pavements for walkways, parking lots and other common areas for much the same reasons.
Interlocking pavements, again largely due to their upscale yet utilitarian appeal, are also making a mark in highly trafficked areas of popular resorts and gated residential communities. Architects are specifying them because the system offers limitless creativity and diversity. Recent focus groups targeting homeowners between the ages of 35 and 65 have consistently found that these consumers see added value in initial curb appeal, ongoing low maintenance and higher resale down the road. They like the diverse range of colors, textures and pattern possibilities. The same holds true for non-residential sectors of the paver market.
Interlocking pavements are versatile. There are shapes that can be used in pedestrian and various vehicular applications. For example, shapes from the Cambridge Permeable Collection provide excellent, green solutions for the rapid removal of storm water and therefore can eliminate, in many cases, the need for retention ponds, which consume valuable real estate space. Form and function takes precedence around pools when shapes from the Cambridge Crusader Collection for instance are specified. Areas surrounding a pool are a better bet when slip resistant concrete pavers are used. Because the system is set without mortar, access to underground utilities is easier than say, with poured concrete.
Not so long ago large, planned residential communities whether they are town homes, attached homes or single units were thought of as "cookie-cutter". Even today most have repetitive architectural features, facades and color palettes that were designed to keep the community harmonious. Changes in color and patterns in a home''s driveway, walkway, patio or lanai through the use of pavers offered developers the opportunity to present subtle differences from one residence to another and often pull it all together at clubhouses, community pools, golf courses, parks, pathways and other common areas.
Hardscape manufacturers like Cambridge offer architects and developers the tools they need to create their own welcoming, personal touches that home buyers, resort vacationers, and outdoor recreation enthusiasts can enjoy. These tools can range from pavers, retaining walls and other wall systems to materials used in pool and spa construction. We see complementary hardscape products such as poolside refreshment bars, gas fire pits and outdoor fireplaces designed into alfresco dining areas popping up more and more to enhance the comfort level of guests. Paver and wall system manufacturers like Cambridge offer many of these products as pre-packaged kits and in fully-assembled models, which can ease the design/build factors on installations in suburban backyard makeovers as well.
Quality installations should be performed under guidelines of the Interlocking Concrete Paver Institute (ICPI), the North American trade association representing the interlocking concrete paving industry. ICPI is considered by peer associations around the world as the leader in development and dissemination of technical information for design professionals and contractors. Following their field-proven guidelines further assures lasting beauty and durability coveted by homeowners and professionals alike. Cambridge has been an active member since the organization was founded in 1993.
Avalon Bay, a residential community in Huntington, Long Island, New York; Prudential Center in Newark, New Jersey; James Madison University in Harrisonburg, Virginia; and Hilton Hotels and Resorts are among the many prominent institutions, municipalities and corporations that have chosen Cambridge Pavingstones with ArmorTec® over traditional paving methods for an array of applications.
Watching trends like this in outdoor living spaces supports the hardscape choices of homeowners in a variety of residential settings from small- and medium-sized houses to large homesites, waterfront residences as well as multi-purpose communities. If planning to build a new home, re-do an outside landscape or transform a backyard is on your list, it would be worth your while to observe what foremost developers are doing with outdoor spaces. Other design ideas can be found online at social media platforms and robust websites like cambridgepavers.com.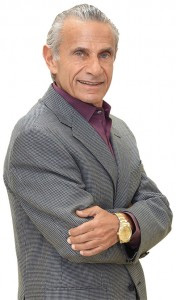 About the writer:
Charles H. Gamarekian is the Chairman/CEO of Cambridge Pavers Inc. He is one of the founders and a current board member of the Interlocking Pavement Institute. Organized in 1993, ICPI is the North American trade association representing the interlocking concrete paver industry and considered by peer associations around the world as the leader in development and dissemination of technical information for design professionals and contractors. Mr. Gamarekian is recognized worldwide as an expert in his field and is a frequent speaker on the proper installation of pavingstones, wallstones and many outdoor living products.