Turn Your Backyard Into Your Family's Favorite Fall Destination
October 23, 2014
October is the month when magazine and newspaper articles abound letting readers know what seasonal pleasures are but a day trip away. Eager to enjoy the feeling of crisper, cooler air, jaunts along scenic mountain roads and harvest celebrations, families set out from the homestead to satisfy passions for the great outdoors and relish the joys of the fall season. But for many, the lure can be fulfilled just a few steps away from their backdoor where, with the help of modern-day hardscape materials, autumnal sanctuaries have been created in their own backyard.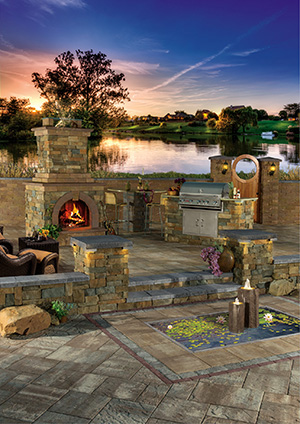 In his notebook, American novelist and short story writer Nathaniel Hawthorne (1804 - 1864) once wrote: "I cannot endure to waste anything so precious as autumnal sunshine by staying in the house." With summer over, homeowners have opted to have amenities like fire pits, outdoor fireplaces, reflection ponds, bubbling fountains and open air cooking apparatus at their beckon call - any time of day, weekday, weeknight and weekend - not just during autumn calendar months but in those before and after. Leading hardscape product manufacturers such as Cambridge (cambridgepavers.com), makers of Cambridge Pavingstones with ArmorTec®, Cambridge Wall Systems and a full line of patio and outdoor room amenities, have set new standards for optimizing the backyard lifestyle experience.
With the extensive array of products available, all outdoor lifestyle enthusiasts have to do is pick their pleasure, lock in to a style and color, and let professional designer/contractors take it from there. If you have a penchant for cooking-up fall menus, look to design and build a simple or fully functional outdoor cooking centerpiece to your patio that can include an inline, L- or U-shaped kitchen or a grill island. Not enough to satisfy your culinary appetite? Add a professional-quality outdoor pizza oven and/or an authentic, all-in-one, wood pellet smoker BBQ grill and start taking orders for regionally inspired dishes from friends and family all year long.
For the more pensive backyard respites, think about having a reflection pond installed. Many landscape contractors are fully-qualified to accomplish this for you using modern-day materials such a manufactured wall blocks, stationary seating options, steps, columns, handsome caps around the pond, and surrounding interlocking concrete pavers - even accent lighting that is specially designed for hardscape materials. Choices like these can save time and money when compared to natural stone.
A Cambridge Fire Pit or Fire Table will combine a warm gathering with the ability to grill steaks, cook ka-bobs, roast marshmallows and toast s''mores. A gas-fired or wood-burning Cambridge Outdoor Fireplace or lighted Waterfall combination can provide a more intimate setting, especially when tucked under a Cambridge Pergola or Pavilion set upon charming columns made of Cambridge Wallstones or faced with Cambridge Stone Veneer that complement surrounding architectural characteristics of the home or backyard environment.
It is further relaxing to know that Cambridge pavers, wall systems and outdoor living room components require little or no maintenance and are built with coordinated colors that are made to last. Pre-cut and pre-packaged as well as new fully assembled outdoor living components also from Cambridge can provide a speedy ticket to lasting enjoyment because design/build time factors are minimized.
And if timing matters for budget-conscious homeowners, landscape designers and hardscape contractors are winding down work schedules in the fall months. Consequently, competition is often more aggressive and bids tend to be more amenable to the customer. You may also find that installers are able to speed up project turn-around as their time frees up. Don't hesitate to get more than one bid, but be sure to get references and insist that the company use only high-quality products and not scrimp to bring in a lower price. Ask the contractor to put a plan together that allows for aspects of your patio or outdoor room to be completed in phases so meeting budget restraints and time windows can also be stress-free.
By winding down in your backyard you may just wind up chilling out in other ways than expected this autumn. For more information on the broad line of products offered by Cambridge, visit the company website - cambridgepavers.com, or visit any Authorized Cambridge Distributor and ask for a copy of the company''s Guide To Outdoor Living Rooms.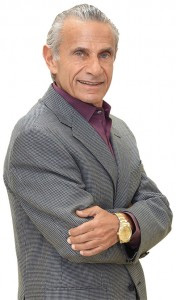 About the writer:
Charles H. Gamarekian is the Chairman/CEO of Cambridge Pavers Inc. He is one of the founders and a current board member of the Interlocking Pavement Institute. Organized in 1993, ICPI is the North American trade association representing the interlocking concrete paver industry and considered by peer associations around the world as the leader in development and dissemination of technical information for design professionals and contractors. Mr. Gamarekian is recognized worldwide as an expert in his field and is a frequent speaker on the proper installation of pavingstones, wallstones and many outdoor living products.