Hardscaping Can Take The Patio Experience To Higher Levels
September 29, 2014
Raised patios built with mortar-less interlocking concrete pavers and manufactured wall units are a growing trend in patio design here in the United States. The combination of concrete pavers and segmental concrete retaining walls provide homeowners with the beauty of natural stone at cost-competitive prices with virtually maintenance-free performance and stylish color and texture combinations that are practically limitless. Concrete pavements and wall systems enable a creative amalgamation of straight or curved walls, flat surfaces, and steps that are well-suited for sloped backyards as well as areas inaccessible to ready-mix concrete trucks and equally unsuitable for a wooden deck. The result can be a patio comprising two or more levels depending on the terrain of the property and/or personal preference.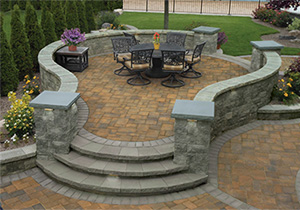 When compared with other options such as natural stone, lumber, composites or poured concrete, a segmental, manufactured wall and interlocking paver system offers a superior structure, extraordinary durability and if necessary, ease of behind-the-scenes repair of underground utilities and the like. Successful integration and performance of these two systems is achieved through carefully planned design details and proper construction practices approved by world-recognized organizations such as International Concrete Pavement Institute (ICPI) along with leading hardscape product manufacturers and certified contractors who embrace these principles and guidelines.
In cases with an existing sloping grade, a tiered patio that incorporates a retaining wall is essentially, solutions-based, supporting the higher level or levels, while also making an impressive visual and architectural statement. All retaining walls bear some type of load, the condition from which the term "retaining" wall is derived. After determining the area of construction and type of wall you are going to build, put the design or engineering of your wall first and then the aesthetics. In most cities, counties or states, walls higher than three feet or those subject to poor soil conditions and issues with water runoff must be designed or approved by a state qualified and licensed engineer. It is important to adhere to local building codes even when walls are shorter than three feet. Manufacturers like Cambridge, producers of Cambridge Pavingstones with ArmorTec® and Cambridge Wall Systems can help directly or through their comprehensive dealer network. You can also search social media and go to websites like cambridgepavers.com.
Features such as built-in seating walls, decorative and lighted columns, and staircases can be easily incorporated into your design thanks to matching, color coordinated, hardscape material such as stone veneer, cast stone and other products, which are sold independently, fully-assembled and in pre-cut and pre-packaged kits. Check with leading producers and find the products that will best serve your objectives. Popular trends encourage the mixing of colors, textures and styles to attain distinctive, yet tastefully orchestrated, results. Cambridge Pavingstones with ArmorTec® are color coordinated with the company''s line of wall blocks and various collections of outdoor lifestyle components such as kitchens, fireplaces, pizza ovens and waterfalls that can be placed onto the raised patio. Select from an array of styles and textures to complement most any contemporary or traditional intention or eclectic combination.
Cambridge Wallstones and systems can be arranged in various ways to accomplish a myriad of objectives from planting beds positioned at different levels to terraced gathering areas with accent lighting spotted into the system under wall caps, integrated into the pattern or placed under steps leading up to paved areas.
Cast Stone stairs from Cambridge are a full 6 inches thick in 48-inch and 72-inch lengths, and are sold separately or as a pre-packaged, 4-step staircase so, designing one or more into your raised patio footprint or at a backdoor location is easy to do.
If a more casual egress into the surrounding backyard or ground-level areas meets more of your personal tastes, then Cambridge Cast Stone Palisades 4-Pc. Step Sets may do the trick. Outcrops on cliffs, steep hillsides, mountain ridges, riverbanks and other bedrock formations and protrusions inspire each mold. Every one of the 4 pieces possesses distinctive characteristics and can be set back, rotated and positioned in dozens of ways.
With hardscaping, the design possibilities are virtually never-ending and the sky''s the limit when it comes to personal expression when creating a multi-level outdoor lifestyle experience.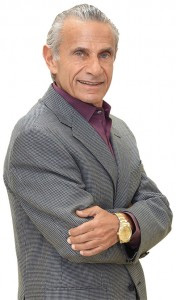 About the writer:
Charles H. Gamarekian is the Chairman/CEO of Cambridge Pavers, Inc. with its unique ArmorTec® technology. Mr. Gamarekian is recognized worldwide as an expert in his field and is a frequent speaker on the proper installation of pavingstones, wallstones and many outdoor living products.