Romancing the Stone in Landscape Design
February 11, 2014
Released in 1984, Romancing the Stone -the Golden Global Award winning action-adventure romantic comedy starring Michael Douglas, Kathleen Turner and Danny DeVito - earned over $86-million worldwide in box-office receipts. Decades later, the movie retains much of its critical acclaim with an 86% approval rating by Rotten Tomatoes, a review aggregation website. In the movie, Joan Wilder (Kathleen Turner), a lonely romance novelist from New York and swashbuckling, American exotic bird smuggler Jack T. Colton (Michael Douglas) join in distant Columbia to frantically search for and ultimately find a treasure: an enormous emerald called El Corazon ("The Heart"). The plot thickens with action-packed, chase scenes, gun battles and an unlikely romance that take place in an exotic location outside of the reach of most of us.
Productions like Romancing the Stone are largely successful because they provide a venue that lets us drift off to amazing places laced with experiences that titillate the senses. In the real world, homeowners have long searched for a more peaceful escape, and have found it much closer by - in their own backyards. Transforming a backyard patio and its surrounding landscape remains a compelling venture, accessible at a whim, with enduring rewards for the entire family. And the design/build of a dream backyard can be accomplished with a great deal of romantic.
Charm and emotional sensitivity that takes your mind away from the stresses of daily life much like a movie experience, thanks to the numerous products and embellishments available from today''s manufacturers of pavingstone and wallstone products.
"Clients come to us to help them to create places they remember and/or romantic places they imagine while being mindful of durability, function, budget and maintenance," said landscape architect Richard W. Gibney, RLA, ISA of Gibney Design LA PC. "In creating a landscape that meets the goals of our clients'' ''wish lists'' and fits into their lifestyles, we need many tools at our disposal." Market leaders have combined the beauty of natural stone with the advanced technology and modern-day durability of sustainable manufactured materials scored with consumer-friendly conveniences. "Having the wide variety of colors, sizes and textures of current hardscape materials to choose from," added Gibney, "facilitates this process and in turn, offers a client an opportunity to zero in on the individual look and feel that they are hoping to achieve."
Writing the plot should be a very personal journey and can range from planning a simple patio a few steps from the back door to following through with a more elaborately appointed outdoor living room or pool deck adorned with everything from an exotic waterfall from a pre-packaged kit to a fully functional outdoor kitchen with all the trappings of a grand production. Spaces can segue to multiple scenes in adjoining areas or on different levels that reflect various experiences that comprise your outdoor lifestyle. Scenes can be completed in time windows that connect with budgetary matters and other issues.
In all cases, an interlocking concrete pavement and wall system from leading producers such as Cambridge - manufacturers of Cambridge Pavingstones with ArmorTec® and Cambridge Wallstones - can play starring roles with cameo performances by outstanding outdoor living room amenities. The resulting storyline can be as demure or adventurous as your creativity leads you - all directed with the help of a trained, professional landscape architect or designer and/or experienced hardscape contractor with your home as a familiar background.
For manufacturers like Cambridge, bringing pavingstones, wallstones and outdoor living room components such as open-air kitchens, pizza ovens, fireplaces, fire tables and fire pits, refreshment bars and water features to the homeowner also makes available an array of accoutrements to make a personal statement. These features include spotlighting handsome granite countertops, tabletops and rings; granite tile and cast stone accents; stainless steel appliances and cabinet doors; even a pergola or pavilion as well as subtle hardscape lighting some with over a dozen color options that can be run singularly or sequentially by remote control as per your direction. Who needs a lighting crew with this kind of technology at your disposal?
Gibney acknowledges that one of the biggest rewards and compliments regarding his firm''s work is when a client enters the space his company designed and feels not only that we met all of their goals but that no other solution would have been better. Landscape architects, designers and contractors have come to rely on field-proven, comprehensive and solutions-based product lines from producers like Cambridge to address a myriad of conceptual development and build-out concerns.
At the end of the movie Romancing the Stone, Joan delivers a new manuscript to her publisher in New York City based on her adventure. The publisher loves it. Returning home, Joan finds Jack waiting for her in a sailboat. Jack tells her that he sold the emerald and bought the boat, which was his dream. They go off together, planning to sail around the world. Start your dream-come-true in time for spring audiences of friends and family by contacting a local hardscape contractor who will lay out your own plot in a potentially award-winning, real-life set design. Search for names of Certified Cambridge Contractors and distributors online at cambridgepavers.com and develop a manuscript for your very own real-life, romantic escapade. The cameras are rolling with dozens of provocative ideas in the Cambridge 108-page Outdoor Living Room Guide.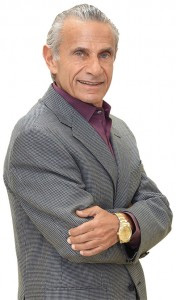 About the writer:
Charles H. Gamarekian is the Chairman/CEO of Cambridge Pavers Inc. He is one of the founders and a current board member of the Interlocking Pavement Institute. Organized in 1993, ICPI is the North American trade association representing the interlocking concrete paver industry and considered by peer associations around the world as the leader in development and dissemination of technical information for design professionals and contractors. Mr. Gamarekian is recognized worldwide as an expert in his field and is a frequent speaker on the proper installation of pavingstones, wallstones and many outdoor living products.