Hardscaping: Easy Solutions Resolved for Difficult Conditions
December 19, 2013
ECLECTIC PAIRINGS ARE SETTING NEW TRENDS IN OUTDOOR LIVING ROOM DESIGN
Pairings is a term normally associated with collaborations between head chefs and sommeliers, which join up recommended wines with entrees and other dining courses on various culinary menus. Eclecticism in interior design, a trend that incorporates distinctive pairings, has found its way out the back door and into the outdoor living room, pool deck and even smaller patio designs where space is a premium. The movement combines modern with traditional design characteristics that include the use of a variety of colors, textures and patterns in an integrated design. Leading manufacturers of hardscape materials have broadened their product lines to reflect the avant-garde tastes of homeowners, landscape designers and hardscape contractors who share this sprightly, "almost anything goes" mindset. Hardscape materials such as concrete pavers, wall units and outdoor living room components, made from natural materials, can point to desired results without breaking the budget because they mimic the characteristics of their natural stone counterparts — examples: bluestone, Belgium block, quarried stone, granite and large stone slabs to name a few.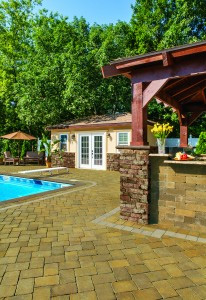 Hardscape manufacturers such as Cambridge, producers of interlocking concrete pavingstones with ArmorTec® and a wide range of other products, have captured tasteful balances of solid and blended colors, pronounced textures and smooth surfaces along with limitless pattern possibilities within their product mix. Selections for designers and consumers boast value, durability, ease of installation and performance excellence while being mindful of coordinating colors and textures in both conventional and less-predictable ways.
Having the ability to mix colors and textures without the fear of compromising performance allows flexibility in design that can step out of the box rather than box-in the designer to settle for the more mundane. Results can be quite striking and rewarding. Concrete pavers are arranged in a pattern to form an interlocking pavement system. Typically, there is a border course and often a different pattern or patterns such as s circle or series of interwoven fans, that tactically interrupts the design. Pavers are offered by manufacturers like Cambridge in an array of surface textures or in the case of The KingsCourt Collection and XL Smooth from The Sherwood Collection, along with some other shapes, the surfaces are flat. Because solid and blended colors can be mixed if it complements a design objective or particular application, flexibility in choosing shapes, colors and textures is encouraged. Changing sizes from larger to smaller shapes will also add flavor to the final project. For example, areas can be sectioned off or highlighted by using bands of contrasting shapes in another color and/or texture. This is referred to as "banding". The Brick Alley Cast Stone paver also by Cambridge is a nice, eclectic choice because of its small size and appealing vintage look. You can also consider the Belgium 5-Pc. Design Kit, which too, has an historic appearance, yet integrates well with more contemporary shapes from Cambridge.
If a retaining wall, perimeter wall, garden wall, tree ring or other kind of wall will be part of your landscape, an eclectic approach can also fit well in a hardscaping plan by not just combining different colors, styles and textures in the wall system but also in the design/build of the wall itself. Many contractors are demonstrating their creative prowess by integrating pavers, casual seating, column treatments, column mailboxes, and untypical wall and column capping as well as semi-circular and serpentine runs into the design. Most manufactured wall systems comprise modular units, which can be creatively arranged often without requiring additional cutting of the wallstones. By entertaining the many options at hand, the aesthetics of a wall can change from a traditional design to contemporary with little or no effort.
Products such as Cambridge Stone Veneer facings in three different styles, can be a cost-effective solution for homeowners who like the idea of pairing traditional hardscape products with natural elements because they are molded from time-worn, natural stone found in ledges and valleys of native America. Canyon Ledge — the most popular style — retains all of the dimensional characteristics of the handpicked pieces from which it was cast. Randomly placed, yet tailored, linear patterns created with Castle Stone, another style of Stone Veneer, will mimic the facades of medieval manors, while the rustic look of Cambridge Tuscan Fieldstone is reminiscent of rural, old country cottages. Think of them as tools to help in the development of a diverse approach when integrated into a vertical hardscape dynamic.
An array of photographs showing various applications of products ranging from pavingstones and wallstones to outdoor lifestyle amenities and enhancements can be found in the 2014 Cambridge Outdoor Living Guide, which is available online at www.cambridgepavers.com or from an Authorized Cambridge Distributor. You can also search for the closest distributor on the website.
Another good place to start your search is by attending home shows that usually pop up now through early spring. Manufacturers and contractors spend a great deal of money and time presenting products and services in the best possible light. You'll find their displays are amazingly realistic-looking and idea provoking. If eclectic pairings titillate your taste buds when planning an front yard or backyard renovation, look for booths that catch your attention by displaying these techniques and professional expertise in executing them. Contractors with a bent for creativity will enjoy showing you samples of how their menus of hardscape products and installation ideas will satisfy even those homeowners most hungry for pairing up colors, textures and designs in a truly eclectic design. Bon appétit!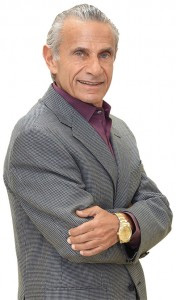 About the writer:
Charles H. Gamarekian is the Chairman/CEO of Cambridge Pavers Inc. He is one of the founders and a current board member of the Interlocking Pavement Institute. Organized in 1993, ICPI is the North American trade association representing the interlocking concrete paver industry and considered by peer associations around the world as the leader in development and dissemination of technical information for design professionals and contractors. Mr. Gamarekian is recognized worldwide as an expert in his field and is a frequent speaker on the proper installation of pavingstones, wallstones and many outdoor living products.