What Outdoor Fire Feature is Right for Me?
October 01, 2019
Fire features are the perfect fall outdoor accessory for any space. Cambridge Pavingstones offers a variety of fire features, so every individual can find the accessory that best suits their needs! The crackling sound of firewood in your yard can create a relaxing atmosphere and a warm space.
Fireplace
A fireplace is the perfect outdoor accessory to give your outdoor space that cozy indoor-sy feel! Think of this area as an extension of your indoor living that can be used for entertaining guests, date nights, and even family game nights! The best part is, Pre-packaged fireplaces are available for customers cutting the installation period significantly. Fire features are the best way to create a cozy outdoor fall night. Cambridge fireplaces are available in a variety of colors with different options of add-ons to personalize each fireplace to your unique outdoor space. We even have a mini fireplace for those smaller patios!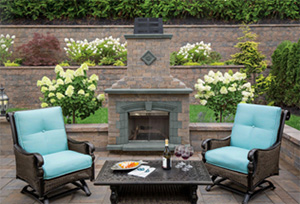 Firepits and tables:
A firepit is the right accessory if you are looking to creating an entertainment area in the center of your space. Firepits work well in smaller spaces and come in different shapes and colors to fit your outdoor space perfectly! Fire tables are a unique type of fire feature that allow for a natural gas fire on top of a bed of lava rocks. These tables give a unique look to your outdoor space. Firepits and tables are best paired with a cocktail and good company!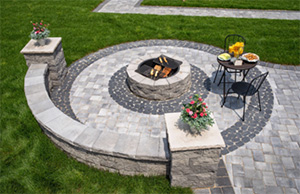 Fire Kits:
Cambridge Pavingstones offers two different types of fire kits. The Cambridge Eternal Flame kit is a long, linear gas burning insert. The Cambridge H2OnFire is both a water and fire feature that brings the calming sounds of a waterfall while also giving off the light and warmth of a firepit. These features are perfect for individuals that want to give off more of an upscale elegant look.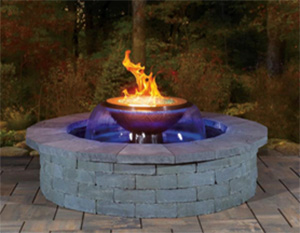 Fire features not only extend your fall nights with light and warmth, but they can create an outdoor area to gather and entertain. Extend the use of your outdoor space throughout all four seasons with a fire feature from Cambridge Pavingstones with ArmorTec!