Fall Grilling Recipes
October 02, 2019
Even though the Summer has passed, you can still utilize your Cambridge Outdoor Grill during the fall season. Having a barbecue during the cooler weather can even be more relaxing because the temperature is comfortable. Here are some amazing recipes that you can make on your grill this fall!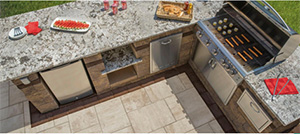 Honey-Glazed Chicken, Sweet Potato, and Peach Skewers
(recipe and photo courtesy of cheatsheet.com)
Ingredients:
• 1 medium sweet potato, peeled and cut into pieces
• 1 cup sherry vinegar
• 1/2 cup plus 1 tablespoon honey
• 2 tablespoons canola oil; more for the grill
• Kosher salt and freshly ground black pepper
• 1 pound boneless, skinless chicken breast halves, cut into pieces
• 4 small ripe peaches, cut and pitted
• 1/2 small sweet onion, cut into pieces, layers separated
• 1/2 cup pecans, chopped
• 1/2 teaspoon ground cumin
• 1/2 teaspoon pumpkin pie spice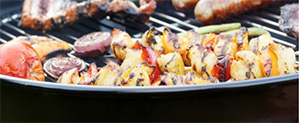 Directions:
• In a 4-quart saucepan fitted with a steamer basket, bring 1 inch of water to a boil over high heat. Steam the sweet potatoes until nearly cooked but still a bit firm, 10-12 minutes. Remove from the heat and cool slightly.
• Put the vinegar, 1/2 cup of honey, 1 tablespoon of oil, 2 teaspoons salt, and 3/4 teaspoon pepper in a saucepan. Simmer over medium heat until reduced, 13-15 minutes.
• Thread the onion, chicken, sweet potato, and peach onto the soaked skewers.
• Reserve half the glaze, brush the skewers with the other half. Thoroughly oil the grill grate and arrange the skewers on one side of the grill and cook 4-5 minutes before rotating.
• While the skewers are cooking, toss the pecans in a small bowl with the remaining 1 tablespoon honey and 1 tablespoon oil, the cumin, pumpkin pie spice 1/2 teaspoon salt and a pinch of pepper. Scatter the nuts on a large piece of foil on the grill while the skewers continue to cook.
• Transfer the skewers to a serving platter, brush with the reserved glaze, and sprinkle with the pecans.
---
Grilled Brussels Sprouts with Bacon
(recipe and photo courtesy of cheatsheet.com)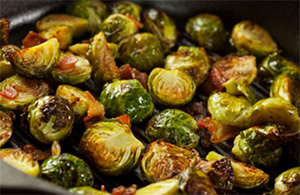 Ingredients:
• 1/3 pound thick cut bacon, cut into 1/2 inch pieces
• 1 1/2 pounds Brussels sprouts, trimmed
• 2 medium shallots, thinly sliced
• Kosher salt and freshly ground black pepper
Directions:
• Fill a medium saucepan with water and bring to a boil over high heat. Add in 1 tablespoon of salt followed by Brussels sprouts and cook for 5 minutes. Drain and set aside.
• Add bacon into a skillet over medium-high heat and cook until crispy. Remove bacon to a large bowl and remove all bacon fat except for 1 tablespoon. Add shallots into pan and cook until lightly browned. Remove to bowl with bacon.
• Place Brussels sprouts in a large bowl and toss with reserved bacon fat and salt and pepper to taste. Place on the grill and cook until lightly charred on each side, about 4-5 minutes per side.
• Remove Brussels sprouts from grill and add to a bowl with bacon and shallots, toss to combine. Pour out onto a serving dish and serve immediately.
---
Turkey-Chorizo Burgers with Guacamole
(recipe and photo courtesy of finecooking.com)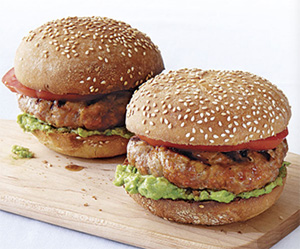 Ingredients:
• 1/2 pound fresh pork chorizo, casings removed
• 1 pound ground turkey
• Kosher salt
• Olive oil, for the grill
• 1 medium ripe avocado, seeded and peeled
• 2 teaspoon cider vinegar
• 1/2 teaspoon ground cumin
• 2-3 dashes of hot sauce
• 4 rolls, split and toasted
• 1 medium ripe tomato, sliced
Directions:
• Prepare grill to medium heat (375°)
• Over a large bowl, break up the chorizo into small pieces. Add the turkey and 1/2 tsp of salt and mix well with your hands. Form into four 1/2 inch thick patties. Press the center of each patty with 3 fingers to make an indentation to help it keep its shape while cooking.
• Oil the grill grates and grill the burgers until cooked, about 10 minutes.
• In a small bowl, mash the avocado, vinegar, cumin, hot sauce and salt until smooth.
• Spread the guacamole over the bottom of each roll, top with a burger, tomato slice, the top of the roll, and serve.
Make sure you are utilizing your Cambridge Pavingstones outdoor grill all four seasons!