Unique Ways to Use Apple Cider
November 01, 2019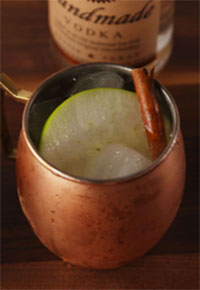 November calls for fall activities such as apple and pumpkin picking. End your fun filled day with a nice glass of hot apple cider to keep the fall atmosphere.
November 18th is National Apple Cider day, what better way to celebrate then with a unique twist on the classic fall drink!
Apple Cider Mules
Ingredients:
• 4 oz. Vodka
• Ginger Beer
• Sparkling Apple Cider
• Sliced apple, for garnish
• Cinnamon Sticks, for garnish

Directions:
• Fill two copper mugs with ice. Pour 2 oz. vodka into each cup. Fill 2/3 with sparkling apple cider, then top with ginger beer.

• Garnish with an apple slice and a cinnamon stick.
(Photo and recipe courtesy of Delish.com)
Apple Cider Donuts
Ingredients:
• 1-1/2 cups apple cider
• 2 cups flour
• 1 teaspoon baking soda
• 3/4 teaspoon baking powder
• 1 teaspoon ground cinnamon
• 1 teaspoon apple pie spice
• 1/4 teaspoon salt
• 2 tablespoons unsalted butter, melted
• 1 large egg
• 1/2 cup packed brown sugar
• 1/2 cup granulated sugar
• 1/2 cup milk
• 1 teaspoon vanilla extract

Directions:
• Reduce the apple cider in a saucepan, stirring occasionally, about 20 minutes. Set aside to cool. Preheat oven to 350 degrees, spray donut pan with non-stick spray and set aside.

• Combine the dry ingredients in one bowl, and the wet ingredients and sugars in another bowl. Pour the dry ingredients into the wet, add the reduced apple cider, and stir until combined.

• Spoon the batter into the donut pan filling each cavity about halfway. Bake for 10-11 minutes until the edges are lightly browned. Transfer donuts to a wire rack to cool.

• Coat donuts with a little melted butter and then sprinkle the excess combination of apple pie spice, cinnamon, and sugar on top. Serve and Enjoy!
Apple Cider has uses besides cooking as well. Some other things apple cider can be used for are:
• To soothe a sore throat
• To preserve food for longer
• As a facial toner
• As a hair rinse
• To whiten teeth

Apple cider has so many versatile uses, so why not try some of them out this fall season!