Fall/Winter Hardscaping Ideas
November 02, 2019
Contrary to popular belief, hardscaping isn't limited to just the warmer months! With an array of hardscaping accessories, there is a way to build an outdoor living space that is conducive and fully functional for all four seasons! While planning your outdoor makeover, one thing consider is what your goals are for entertaining.
Fire features are the perfect outdoor accessories for year-round use! Cambridge has a fire feature for every mood:
Firepits:
Firepits are useful in a smaller space because there are different sizes and shapes to work with. So, grab a drink and gather round!
Fireplaces:
Although in the past we've recommended a larger patio space for a fireplace, Cambridge recently came out with the mini fireplace as part of our boutique collection for smaller spaces! Fireplaces really give your outdoor space an indoor feel.
Fire Kits:
Make it elegant with a Cambridge fire kit! Impress guests with more of an elegant modern look in your outdoor space. The Cambridge Eternal Flame kit is a long, linear gas burning insert. The Cambridge H2OnFire is both a water and fire feature that brings the calming sounds of a waterfall while also giving off the light and warmth of a firepit.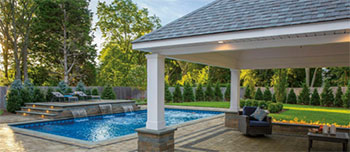 Pavilions:
Add a covered space to shield from any extreme weather or even wind! Pavilions are a great spot to chat with friends, watch the game with family, or kick back and read a book alone. Cambridge pavilion kits come pre-packaged which allow for easier installation.
The end of summer means swapping out your warm weather décor for some fun Fall accessories! Transitioning your space for the upcoming season can be made very easy with these tips and tricks.