Thanksgiving Leftover Recipes
November 03, 2019
The best part about Thanksgiving, besides spending time with your family of course, is the leftovers! Change it up this year with unique leftover recipes that everyone will love.
Start off with a Turkey Frittata for breakfast!
Ingredients:
• 1 tablespoon olive oil
• 1/2 onion, chopped
• 1/2 red or green bell pepper, chopped
• 1 cup boiled potatoes, chopped
• 1/2 cup leftover turkey, chopped
• 6 eggs, lightly beaten
• 1/4 cup cream
• Salt and pepper to taste
• 2 tablespoons chopped parsley, basil or cilantro
• 1/2 cup grated cheese (your choice of chees)
• Hardscaping doesn't get much attention during the fall and winter since most outdoor accessories are targeted toward the warmer weather.

Directions:
• Preheat the broiler

• Heat oil in a large non-stick skillet over medium high heat. Add onion and bell pepper and cook for 3 minutes. Stir in potatoes and cook until golden brown. Add leftover cooked meat and toss to coat.

• In a mixing bowl beat together the eggs and cream and season with salt and pepper. Pour egg mixture into skillet and stir in chopped herbs. Top with grated cheese and brown under broiler for 2-3 minutes until the frittata puffs.
(Photo and recipe courtesy of Foodnetwork.com)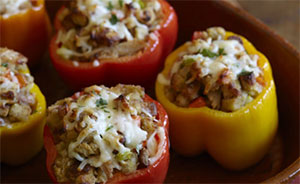 Enjoy Turkey and Stuffing Stuffed Peppers as your next course!
Ingredients:
• 1 large egg, beaten
• 2 cups leftover turkey, shredded
• 2 cups leftover stuffing
• Salt and pepper to taste
• 4 bell peppers, hollowed out
• 1-1/2 cups shredded mozzarella
• Fresh parsley to garnish

Directions:
• Preheat oven to 350 degrees. In a large bowl, combine beaten egg, turkey, and stuffing. Season with salt and pepper and mix together.

• Spoon mixture into bell peppers and top with mozzarella.

• Transfer peppers to baking dish and bake until peppers are tender, and cheese is melted, 25-30 minutes. Garnish with parsley.
(Photo and recipe courtesy of Delish.com)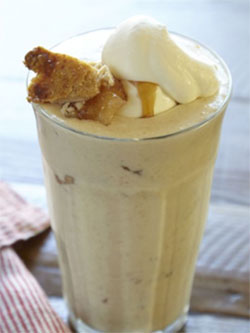 Finish off your day with a sweet Apple Pie Milkshake!
• 1 slice leftover apple pie, plus more for garnish
• 3 scoops vanilla ice cream
• ½ cup of milk
• Whipped Cream, for garnish
• Caramel Sauce, for garnish

Directions:
• In a blender, blend apple pie, ice cream, and milk until smooth.

• Pour into milkshake glass and garnish with whipped cream, caramel sauce, and apple pie crumbles.
(Photo and recipe courtesy of Delish.com)
Thanksgiving is all about being thankful and spending time with those you love. Make the holiday season even better with these fun leftover recipes!