Throwing an Outdoor Holiday Party
December 01, 2019
Switch things up this season and impress your guests with an outdoor holiday party! Decorate your yard with holiday lights and invite your loved ones over to celebrate this holiday season.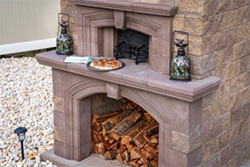 Food Station Ideas
Pizza:
Allow your guests to personalize their meals with a make your own pizza bar. Fire up your Cambridge pizza oven to make pizzas or flatbreads for your guests, while adding some warmth to the backyard as well!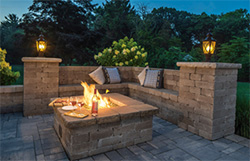 S'mores:
You can set up a s'mores station by the firepit for your guests or enjoy some cocktails and conversation with friends over the crackling fire!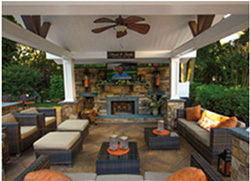 Entertainment
Firepit:
Create an entertainment hub in the center of your space with a Cambridge fire feature. If you have a larger backyard, Fireplaces can be placed in different areas to create a central spot to gather, while adding natural light and warmth. Seating walls can be another addition to provide more space and comfort for guests!
T.V.:
Bring a television outdoors and install it under your Cambridge pavilion for protection. Having an outdoor T.V. will allow you to play holiday music for your guests, or even watch a sports game while entertaining!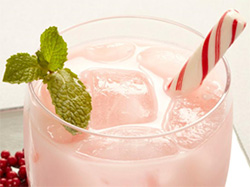 Drinks
What's a party without a signature cocktail?! With Cambridge's outdoor bar kits, you can be your own bartender and keep the party going all night! One of our favorite holiday cocktails is a Candy Cane Cooler!
Ingredients:
• 1 tablespoon crushed candy cane
• 1 1/2 ounces Mint-infused vodka (recipe follows)
• 1/2 ounce Benedictine and Brandy
• 1/2 ounce half-and-half
• Ice
• Peppermint Stick
• Mint sprigs for garnish

Mint-Infused Vodka:
• 2 cups fresh mint leaves, 1 bottle vodka
• Wash mint leaves and place in a jar. Empty Vodka into container and muddle slightly to release the essential oils. Store in a cool, dark place for at least 3 days (or longer if you want a stronger taste)
Directions:
• Place crushed candy cane bits into a pint glass. Muddle the candy cane slightly, breaking up the bigger piece. Do not over muddle into a powder. Add vodka, brandy and half-and-half and stir. Pour into a shaker with ice. Shake lightly to chill and strain into a glass full of ice. Add a peppermint stick to stir, and garnish with a mint sprig.
(Photo and recipe courtesy of foodnetwork.com)
The holiday season is all about spending time with your loved ones. This year, invite your friends and family over for a gathering in your outdoor space!