Creating the transparent indoor/outdoor experience with hardscaping
October 22, 2013
It can be said that legendary landscape architects James Rose and Lawrence Halprin, along with architects Frank Lloyd Wright and Philip Johnson, were visionaries whose many pioneering designs kept inside and outside spaces visually and sensually transparent. A prime example is The Glass House created in 1949 during a mid-career break by Johnson, America''s "dean of architecture," and scion of a New Amsterdam family. Located in New Canaan, Connecticut, it remains a National Trust Historic Site frequently visited by curious tourists and followers of his and other''s artistic expressions of the "transparent experience." The iconic 20th century structure is an interpretation of modern architecture, landscape, and art. The house is also a canvas for inspiration and experimentation that preceded the growing modern day trend of bringing inside amenities outside though the creation of the outside living room. What makes an outdoor living room special is the fact that, much like with interior design, landscaping a home''s exterior or styling a pool deck or patio should translate into an extension of the homeowner''s lifestyle.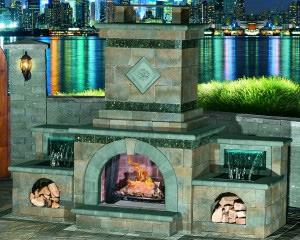 Because of the array of styles, colors and textures, it can also be said that hardscaping products from leading manufacturers can make the transition from indoors to outside fluid while paying homage to other characteristics of the home as well as its natural surroundings. Materials such as natural stone facings on walls and fireplaces as well as granite countertops in kitchens and baths, decorative tile inlays, stainless steel appliances and cast stone embellishments are among those that have earned their places on today''s interior wish lists. These features can also be found in the open-air kitchens, fireplaces, columns and other components found in a well-designed outdoor living room. Cambridge is one of the leading manufacturers of hardscape-oriented patio components offering high-end features like these as standard on many products, ranging from kitchens, grills and refreshment bars to fireplaces, fire pits and fire tables.
Cambridge also offers you and your contractor choices of color and style combinations in their components in contemporary and classic styles that reflect personal tastes while addressing your family''s lifestyle practices. Although the features tie in with favored designer-inspired amenities incorporated into interior rooms, they are made of materials manufactured and tested to hold up against outside elements. And many of them are available as fully-assembled components or in pre-cut/pre-packaged kits ready for your landscape designer or contractor to design/build into a completely, personalized outdoor room.
Architects like Johnson were proponents of a design technique known as "hide and reveal" as well, whereby as visitors were led through a hallway in a home, for instance, they would encounter a visual surprise be it a striking piece of art, a dramatic change of style, or a panoramic view from an upper level window wall. This technique can also be accomplished in an outside room by making a specific component of the outdoor space a centerpiece in your design. A fireplace is often positioned in an interior room so that it not only maximizes function but also makes a statement reflecting the style and lifestyle intention of the room. An outdoor fireplace is a natural choice on a patio too.
Thanks to hardscape product manufacturers, there are a lot of styles in the marketplace. An interesting choice that can titillate the senses in an outdoor living room is the Cambridge Fully assembled Outdoor Fireplace with optional waterfall/woodbox combination extensions. The stylish, multi-featured unit combines the warmth and comfort of a crackling wood fire with the hypnotic sound of a water feature and the added visual appeal of accent lighting.
For outdoor rooms that can be accessed easily from the side of the house as well, have your contractor build a tall privacy wall of Cambridge Wallstones with an 80" high, stylish Garden Gate Kit nestled between two wallstone columns. Upon entering the space, first-time visitors will discover (surprise, surprise!) an outdoor living area that embodies an array of hardscape materials and comfort features that can range from a pool deck to a full-featured, coordinated kitchen and bar. The kitchen and bar can be placed under the cover of a pergola or pavilion set on low columns made of wallstones clad with Cambridge Stone Veneer. The veneer, available in three styles made to coordinate with materials in other areas of the home, is molded from natural stone found in ledges and valleys right here in America. The blended color palettes available in the stones can offer interesting parallels to inside rooms and exterior facades.
Using computer-generated renderings from Cambridge software and the Cambridge online help desk, an authorized Cambridge distributor or professional contractor can create or obtain virtual designs that will give you a preview of a proposed outdoor living space that reflects your lifestyle inside and out, from season to season. By today''s interpretations of family life at home, the door truly swings both ways. Creating a "transparent experience" with hardscaping will make the experience even more apparent.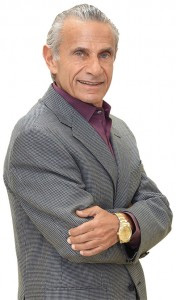 bout the writer:
Charles H. Gamarekian is the Chairman/CEO of Cambridge Pavers Inc. He is one of the founders and a current board member of the Interlocking Pavement Institute. Organized in 1993, ICPI is the North American trade association representing the interlocking concrete paver industry and considered by peer associations around the world as the leader in development and dissemination of technical information for design professionals and contractors. Mr. Gamarekian is recognized worldwide as an expert in his field and is a frequent speaker on the proper installation of pavingstones, wallstones and many outdoor living products.