Throwing a Super Bowl Party in your Outdoor Space
February 01, 2020
There's nothing better than a Superbowl Sunday party with friends and family. Even if you aren't that into football, the Superbowl is a must-watch event, especially for the commercials.
When planning for your Superbowl party there are a few things to keep in mind. First, you need to make sure there's a working TV to watch the game on. Setting up the TV under your Cambridge Pavilion will make sure that no matter the weather, there will be a covered space to enjoy the game.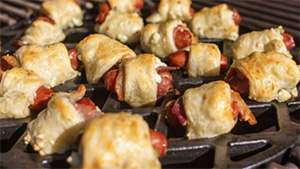 Finger foods and appetizers are always perfect to serve during the Superbowl. Make some fun and easy foods right in your outdoor space, so you don't have to worry about cleaning up a mess inside. Pigs in a blanket or mini sliders are always a crowd pleaser, so why not make them from scratch using your Cambridge Outdoor Grill?! Arrange the food along the counter space and keep the fridge stocked so guests can easily help themselves, taking the stress off you as a host.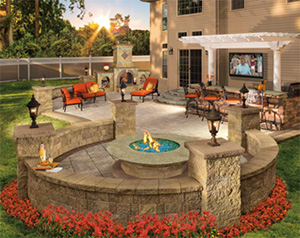 Once it starts getting dark, fire up your Cambridge fire features to keep your space well lit and your guests warm. Keeping your fire feature at the center point of your outdoor space will allow guests to enjoy the fire while still being a part of the party. Add some throw pillows and blankets along the seating benches to make it comfortable for everyone!
It's never too early in the season to start utilizing your outdoor space. Kick off this year right with an outdoor Superbowl party with friends and family!