At-home Valentine's Date Night Idea
February 02, 2020
The start of February means Valentine's Day is right around the corner. Valentine's Day does not have to be an elaborate night out. Are you stuck trying to think of a unique way to spend the night with your significant other? Although dining out is always a nice treat on this particular holiday you are probably going to experience more cons than pros. You may feel rushed during dinner, feel overcrowded in a restaurant, and more than likely have to choose from a limited menu. So how about creating a stay at home dinner date night that your loved one will cherish!
Setting the mood for the evening is easy just be sure to do the following. Dim the lights and add ambiance with candles. Add a bouquet of flowers or a beautiful orchid instead of the usual Valentine's Day roses, to be different and unique! Last but not least make sure you pick the right music for the soundtrack for your evening. We'll help take the guesswork out of the menu by providing a recipe that is delicious and easy to prepare.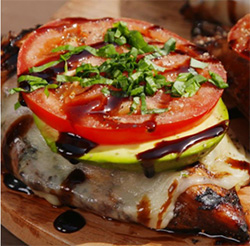 One of our favorite recipes perfect for Valentine's Day is:
California Grilled Chicken
(recipe and photo courtesy of delish.com)
Ingredients:
• 3/4 cup balsamic vinegar
• 1 tsp. garlic powder
• 2 tbsp. honey
• 2 tbsp. olive oil
• 2 tsp. Italian seasoning
• Salt and pepper
• 2 boneless skinless chicken breasts
• 2 slices mozzarella cheese
• 2 slices avocado
• 2 slices tomato
• Fresh Basil to garnish
• Balsamic glaze, for drizzling
Directions:
• In a small bowl, whisk together balsamic vinegar, garlic powder, honey, oil, Italian seasoning, salt and pepper. Pour over chicken and marinate for 20 minutes
• When ready to grill, heat grill to medium-high. Oil grates and grill chicken until charred and cooked through, about 8 minutes per side
• Top chicken with mozzarella, avocado and tomato and cover grill to melt, about 2 minutes
• Garnish basil and drizzle with balsamic glaze
---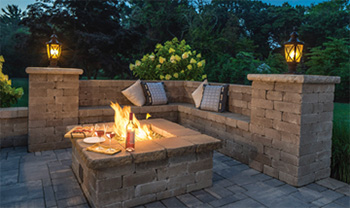 After dinner why not heat things up with dessert and drinks while snuggled around your Cambridge firepit or outdoor fireplace.
Use that Cambridge outdoor bar you've been dying to break in all winter and spice things up with a love potion cocktail:


---
Love Potion Cocktail
(recipe and photo courtesy of thechunkychef.com)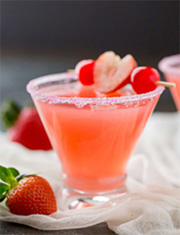 Ingredients:
• 1/3 cup Vodka
• 1/4 cup Peach Schnapps or Peach Liqueur
• 1 cup Ruby Red Grapefruit Juice

Directions
• Rim glasses with sugar if desired
• Add ice and all ingredients to cocktail shaker, shake until cold
• Pour into prepared glass and garnish with maraschino cherries and strawberries
This year steer away from the typical Valentine's Day date night and create a home- cooked meal from the comfort of your own backyard!