Hosting a Girls Night in your Outdoor Space
March 01, 2020
This month we want to draw attention to International Women's Day on March 8th! What better way to celebrate than hosting a girl's night in with some of the special women in your life. Hosting your girl's night in your outdoor space is the perfect place to enjoy some cocktails and conversation. Why worry about snagging a reservation or standing around in a crowded bar where you can barely hold a conversation with these special ladies when you have everything you need in your own backyard!
Welcome your friends by making a unique and refreshing cocktail in honor of the special day. With a Cambridge Bar Kit you will have everything you need at your fingers tips to awaken your inner Tom Cruise "a la" Cocktail and wow these women. Whether the ladies like their drinks shaken or stirred make sure there is one mixed and ready to go from the start. Sangria is always a crowd pleaser, so try making a batch of this White Peach Spring Sangria!
(recipe and photo courtesy of thediaryofadebutante.com)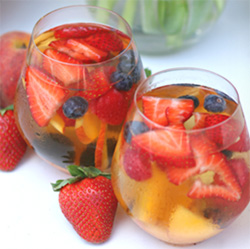 Ingredients:
• 1 Wente Chardonnay
• 1 Cup St. Germain Liqueur
• 2-3 Fresh Peaches (sliced)
• 1 Pint Strawberries
• 1-2 Handfuls of Raspberries
• 1-2 Handfuls of Blueberries
• 1-2 Handfuls of Blackberries

Instructions:
• Pour bottle of Chardonnay and 1 cup St. Germain liqueur into a pitcher
• Add in fruit and stir together
• Let fruit soak for 2 hours
• Fill wine goblets with ice and pour in the sangria

February chill still lingering? Light up the fire pit or fireplace to add a cozy, warm atmosphere. String bistro lights to add ambiance and extra lighting when the sun goes down. Create the center-point of your outdoor space around the fire feature and allow your girls to hang around and get "lit" all night long. With that being said we do not want libations without tasty culinary creations!
What's a girl's night without some food?! Heat up your Cambridge pizza oven and make personalized pizzas for your guests. Be sure to offer a variety of toppings to cover your meat eating & veggie loving friends. No pizza oven, no problem. Fire up the outdoor grill and make a delicious meal for everyone to enjoy!
The combination of an outdoor bar, fire feature, and Cambridge pizza oven make outdoor entertaining a breeze! Remember what this celebration is about and be sure to share what makes all these women so special to you. Having Celebrate International Women's Day the right way while surrounded by all the best women!