2020 Pantone Color of the Year
March 02, 2020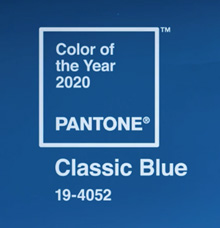 With every new year comes new trends, and with new trends come new colors! The 2020 Pantone color of the year is Classic Blue. This color is described as "instilling calm, confidence, and connection, this enduring blue hue highlights our desire for a dependable and stable foundation on which to build as we cross the threshold into a new era." This color will compliment any outdoor space!
Classic Blue is a primary color that can be incorporated into your outdoor space with ease. Adding new throw pillows to your seating wall or outdoor couch is an easy way to incorporate this pop of color. How about an all-weather rug that can create a cozy space by a fire pit or fireplace? Replacing lounge cushions and an umbrella with the new hue will give your space an instant makeover!
Why blue you ask? Studies say that cool tones can actually help to create a relaxing atmosphere and put you at ease. Cooler shades also create illusions of a bigger, more open space. Think about how a beautiful blue sky can evoke all those emotions and it is easy to see why this tone is a fan favorite.
If you're planning a new outdoor renovation and want to incorporate blue tones take a look at the Sherwood Collection by Cambridge Pavers. Visit an authorized dealer to see Blue Lagoon, Bluestone Blend, Limestone Quarry Blue, and Montauk Blue, in person to see which one catches your eye the most. Blue toned pavers look great anywhere, but especially near ponds or pools, as seen in the image above. Take the color theme to the next level and add under water blue lights to create your own lagoon look and feel to your backyard oasis!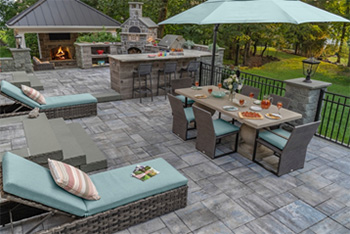 No matter what type of outdoor space you already have or are planning on installing, there are many ways to incorporate the Pantone Color of the Year! The most important factor is how this color makes you feel when you walk outside. Trends come and go, but if this is a color you always favored then even more of a reason to keep it around all the time. Most of all have fun creating your classic blue canvas!