Indoor vs. Outdoor Renovations – What to Prioritize First?
March 03, 2020
When deciding on whether you'd like to start off with an indoor or outdoor renovation, there is a lot to consider. While an indoor renovation can be enjoyable, the stress and possible relocation that these types of projects cause may not be worth it. An outdoor project on the other hand, will boost your curb appeal and home value immediately while adding an outdoor entertainment space to enjoy all four seasons!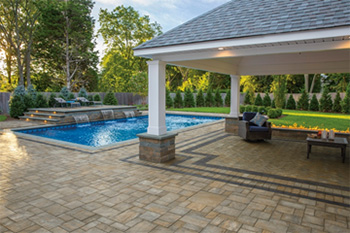 Struggling to decide which type of renovation to add on first? Try creating an "indoor-outdoor" effect! An outdoor living space can act as an extension of your indoor space. To achieve this "indoor-outdoor" effect, you can add a Pavilion to cover a section of your outdoor living room or install an outdoor kitchen. Under the pavilion, you are protected from the weather, so why not add some comfortable seating and a TV to make the most of your space. An outdoor kitchen or bar is perfect for entertaining. You are able to get the food cooked while still conversing with your guests. Not to mention…entertaining outside eliminates the risk of spills and crumbs inside!
Adding an outdoor fire pit or fireplace can help to extend the use of your outdoor space throughout all four seasons. Using a fire feature as the center-point of the outdoor space will make your home the entertainment spot that friends and family will never want to leave!
With so many different products to choose from the design possibilities are endless! Using different colors for borders and inlays can help delineate different areas in your outdoor space. This is a small touch that can make your space unique and one of a kind. Have fun with the planning process, and be sure to visit a dealer to see products and colors in person before making any final decisions.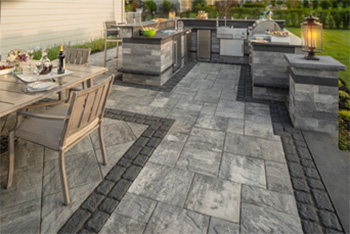 When renovating during early spring, it's more practical to start with an outdoor space. Spring is the perfect time to install new outdoor accessories so you can start utilizing the space right away. Your new outdoor space will function as an entertainment spot. that friends and family will never want to leave!
Tight budget? No problem. The great thing about choosing to put your outdoor renovation first is you can do it in phases. Adding in small renovations over time will help you stick to your budget while still creating the outdoor space of your dreams!
Renovations in general can increase your livable space and expand the entertainment area in your home, both indoor and outdoor.