Summer Drinks/Snacks to Enjoy on the Patio
June 03, 2020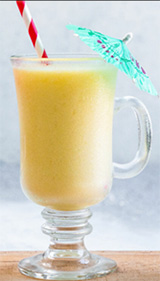 There's nothing better than relaxing on the patio with a refreshing drink and yummy snack in hand! Impress your family and enjoy the warm weather with these recipes.
Bring the island to your own backyard this summer with a classic Pina Colada! All you need to make this refreshing drink is: • Frozen Pineapple • White Rum • Coconut Milk • Lime Juice
Simply blend all of these ingredients together and serve in your favorite glass! (photo and recipe courtesy of acouplecooks.com)
What says summer better than a grilled shrimp taco?! Use your Cambridge outdoor grill to make these yummy tacos to enjoy outside. (photo and recipe courtesy of acouplecooks.com)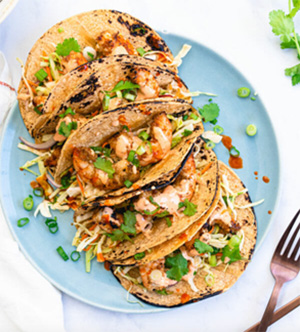 Ingredients:
• 1-pound large shrimp, peeled and deveined
• 1 tbsp olive oil
• 1 tbsp cumin
• 1 tsp garlic powder
• ½ tsp chili powder
• ¼ tsp salt
• 2 cups shredded red cabbage
• 8 tortillas
• 3 tbsp mayo
• 1-1/2 tsp hot sauce
• 2 limes
Directions:
• Preheat the grill to medium-high heat.

• In a medium bowl toss the shrimp with the olive oil, cumin, garlic powder, chili powder, and salt.

• Shred the cabbage and sprinkle with lime juice and a pinch of salt, and mix together the mayo and hot sauce.

• Warm tortillas on the grill for 10 seconds per side, then grill the shrimp until bright pink and cooked through.

• To serve, place the cabbage into a tortilla and top with shrimp. Drizzle the spicy mayo and top with a squeeze of fresh lime juice.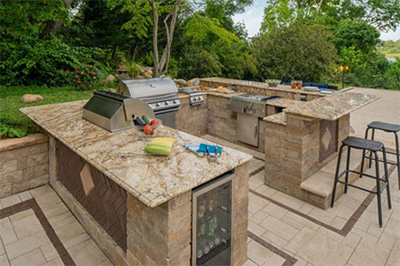 The perfect products to keep in mind when it comes to enjoying refreshments on your patio are Cambridge's bar modules and outdoor kitchens/grills. The bar modules come in pre-packaged kits which make installation a breeze! All Cambridge components can be customized by you contractor to recreate anything you would like to achieve style wise! Cambridge's outdoor kitchen modules will make outdoor entertaining fun. All of these products come in a variety of colors and granite options to best fit into anyone's outdoor space.