Ledgestone Pavers
August 03, 2020
Cambridge Pavingstones offers a wide variety of shapes and sizes of pavers to best fit every homeowners' needs. One of Cambridge's most popular paver is from the Sherwood Collection; Ledgestone. Like any other Cambridge product, Ledgestone comes in a variety of shapes, sizes, and colors in order to match any outdoor space perfectly!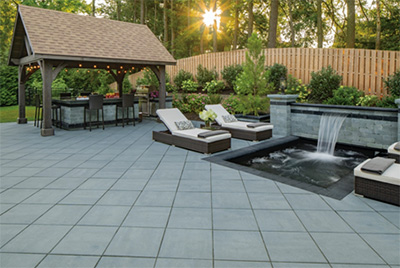 Depending on your style preferences, you can choose textured or smooth pavers. The textured Ledgestone is more of an earthy, organic style while the smooth stone is a more modern and sleeker look.
There are also different colored pavers that can help create different looks in your space. A cooler tone such as the bluestone blend or onyx/natural can make your space feel more modern, while a warm tone such as sahara/chestnut or sandstone will allow you to bring in brighter colored accessories to bring the space together.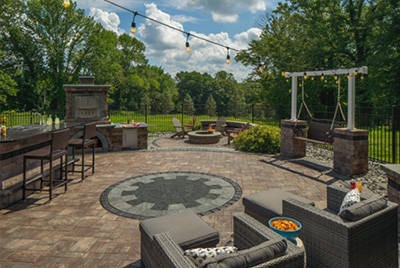 The last aspect to consider is what size stone to add into your outdoor space. If you're going for a sleeker look, consider a large formatted paver such as the Ledgestone XL 24x36 paver. If you want to incorporate multiple sized pavers, Cambridge offers a Ledgestone smooth 3-piece design kit. If you want to add a unique touch to your outdoor space, there is a Ledgestone Circle design kit that can create a gorgeous inlay in your patio or driveway!
When planning your outdoor renovation, Ledgestone pavers are a great option that Cambridge offers. As one of Cambridge's most popular pavingstones you won't want to miss out on them. Ledgestone is so versatile and comes in a variety of sizes, textures, and colors so there is a style for every homeowners' individual needs!