Fall Recipes to Cook in your Outdoor Kitchen
September 01, 2020
Fall is the perfect time to try out new recipes in your outdoor kitchen! As the weather starts to cool off, cooking outdoors will be more comfortable. Here are some delicious recipes that you can make in your outdoor kitchen this fall!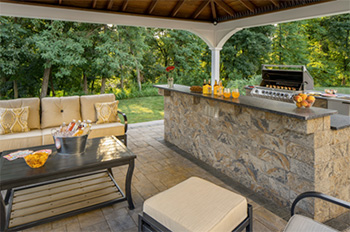 Grilled Flatbread
Personalize your meal with this Grilled Flatbread with your favorite toppings! (recipe and photo courtesy of bonappetit.com)
What you'll need:
• 2 1/2 teaspoons active dry yeast
• 4 3/4 cups flour (plus more for dusting)
• 2 1/4 cups whole wheat flour
• 2 tablespoons kosher salt
• 1/2 cup sour cream
• Vegetable oil (for brushing)
• Any toppings and sauces you'd like to put on the flatbread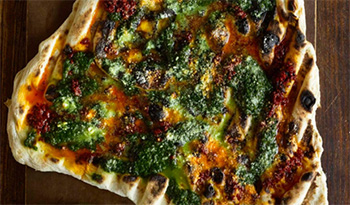 Directions:
• Sprinkle salt over dough, then add sour cream; knead until well incorporated and dough pulls away from sides of bowl and holds together in a loose, wet ball, about 5 minutes (dough will be very soft and wet; lightly moisten your hands to prevent sticking if needed). Cover bowl with plastic wrap and let dough rise at room temperature for 30 minutes.

• Knead dough an additional 4–5 times to deflate. Cover and chill for up to 2 days. (Dough will develop in flavor and continue to rise slowly in refrigerator.) Alternatively, let dough stand at room temperature until doubled in volume, 3–4 hours (the warmer and more humid your kitchen is, the faster it will rise). Chill for 1 hour before grilling to make it easier to handle.

• Build a medium-hot fire in a charcoal grill, or heat a gas grill to high. Divide dough into 8 equal portions. Generously flour a work surface. Working with 1 or 2 portions at a time (depending on how many flatbreads will fit on your grill), roll out dough or press with your hands into a 1/4-inch-thick shape. (It doesn't have to be perfectly round.)

• Brush grill rack with oil. Grill flatbreads until lightly charred on one side and no longer sticking to grill, 2–3 minutes. Using tongs, turn flatbreads and grill until cooked through, 1–2 minutes longer. Add desired toppings and serve warm.
Grilled Maple Cinnamon Pears
Satisfy your sweet tooth with these Grilled Maple Cinnamon Pears! (photo and recipe courtesy of atbbq.com)
What you'll need:
• 3 pears, halved
• John Henry's Sugar Maple Rub
• 6 tablespoons Maple Syrup
• 1/4 teaspoon cinnamon
• 3/4 cup honey yogurt
• 1/2 cup granola
Directions:
• Preheat your grill to 400 degrees, cut each pear in half and scoop out the seeds. Place the halved pears in a large cast iron skillet, skin side down and season with Sugar Maple Rub.

• Whisk together the maple syrup and cinnamon. Pour about 1 tbsp of the syrup over each half pear, covering the cut surface and filling the cavity where the seeds were. Transfer the skillet to the grill and cook until the pears are tender when pierced with a knife. Cooking time will depend on how ripe your pears are but expect anywhere from 30-60 minutes.

• Remove the pears from the grill, top with a dollop of yogurt and granola. Serve and enjoy!
Although summer is over, that doesn't mean you can't still use your outdoor kitchen! Using these tips and recipes throughout all 4 seasons will help to make the most of your outdoor space!