Thanksgiving Recipes to Make in your Outdoor Kitchen
November 03, 2020
Open air dining is becoming increasingly popular this season! It's a fun and easy way to spend time with your friends and family this Thanksgiving. Try out these recipes for an outdoor feast using your Cambridge outdoor kitchen or grill!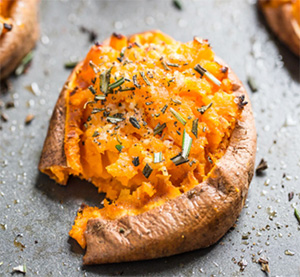 Garlic Smashed Sweet Potatoes
(photo and recipe courtesy of foodwithfeeling.com)
What you'll need:
• 3 large sweet potatoes
• 3 tablespoons of unsalted butter
• 3 large garlic cloves, minced
• 1 tablespoon of minced rosemary
• ½ teaspoon of sea salt
• Black pepper to taste

Directions:
• Pre-heat your grill to 400 degrees and lightly grease 2 large baking sheets or skillets

• Start by cutting the ends off of your sweet potatoes and then slicing them into large rounds that are about 1 inch thick. Place the rounds on your baking sheets, spray lightly with cooking spray and bake for 25 minutes or until the potatoes are fork tender.

• Let cool a few minutes and then smash the rounds with a fork. The skin of mine split a bit but don't worry about it. Do your best to keep them together. I pushed a few of mine together back into rounds if they split.

• In a small bowl, cream together the butter and garlic. Spread the butter mixture evenly over the potato rounds. Sprinkle on the salt, pepper, and rosemary.

• Bake for 5 additional minutes then switch on the broiler and broil until the edges start to get crispy. This can happen very fast so stand by the oven and watch. Mine took about 3 minutes.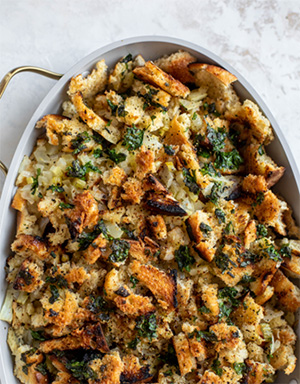 Grilled Bread Stuffing
(photo and recipe courtesy of howsweeteats.com)
What you'll need:
• 2 tablespoons butter melted
• 1 loaf of italian bread, sliced into 1-inch slices (1 standard loaf is about 1 pound of bread)
• 3 tablespoons olive oil
• ½ loaf sourdough bread, torn into pieces
• 1 stick butter, melted
• 2 cups chopped sweet onion
• 1 cup chopped celery
• 4 garlic cloves, minced
• 1 teaspoon salt
• 1 teaspoon freshly cracked black pepper
• ½ cup fresh chopped parsley
• 2 tablespoons chopped fresh sage
• 1 tablespoon chopped fresh rosemary
• 1 tablespoon chopped fresh thyme
• 2 cups chicken or turkey stock
• 2 large eggs
Directions:
• Preheat your grill to medium-high heat. You want the temperature around 400 to 425 degrees F. Spray or brush a 9x13 inch baking dish (or roasting pan) with the melted butter.

• Brush both sides of the italian bread slices with olive oil. Once the grill is hot, place the bread on the grates. Grill on both sides until charred and grill marks appear, about 1 to 2 minutes per side. Let the bread cool completely. Once cool, tear or chop the slices into pieces.

• Preheat the oven to 350 degrees F. Toss together the sourdough pieces of bread and the grilled pieces of bread in the buttered baking dish.

• Heat a large skillet over medium heat and add the butter. Once melted, stir in the onion, celery, garlic, salt and pepper. Cook, stirring occasionally, until the veggies soften, about 5 to 6 minutes.

• Pour the entire butter/onion/celery mixture over the bread pieces in the baking dish. Add the fresh herbs on top. Add in 1 cup of stock. Toss everything together.

• In a small bowl, whisk together the eggs and remaining stock. Pour it over the bread and mix everything well to combine. I like to mix very well so there are no big spots of egg anywhere.

• Place the stuffing in the oven and roast for 60 to 75 minutes. You want the internal temperature of the stuffing to be 160 degrees F when tested with a thermometer. If the edges start to burn too much, you can tent the stuffing with foil.