Immune Boosting Recipes to Help You Get Through The Winter Healthy!
January 03, 2021
Winter can be a difficult time to stay healthy. As the temperature drops and the days become shorter, we tend to spend more time indoors. This year more than ever, you may be asking yourself, what can I do to boost my immune system? One of the most important steps to take is to incorporate whole foods in your diet. Nutrients from whole foods are absorbed by your body much quicker than processed foods and give your body more energy throughout the day. Fruits and vegetables are vital in every meal to provide your body with the proper nutrients and vitamins. Keep reading for some creative low calorie foods that strengthen your immune system and taste delicious!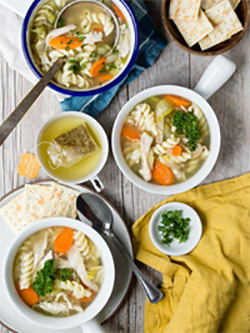 Slow Cooker Chicken Noodles
Chicken noodle soup is packed with rich antioxidants, minerals and vitamins. Chicken broth warms and hydrates your body while the protein in chicken adds to a well balanced macronutrient diet. (recipe and photo courtesy of weelicious.com)
What you'll need:
• 1 1/2 pounds boneless skinless chicken breasts
• 8 cups low sodium chicken stock
• 1 onion, diced
• 3 garlic cloves, minced
• 4 carrots, chopped
• 4 celery stalks, chopped
• 2 leeks, chopped into half moons
• 1/2 teaspoon dried thyme
• 2 bay leaves
• 2 cups pasta (rotini or macaroni are our faves)
• accompaniments: fresh parsley, crackers
Directions:
1. Place the first 9 ingredients in a slower cooker and set to low for 4 hours (the soup can remain in the slow cooker up to 8 hours on low at this point).

2. After the soup has cooked for 3 hours remove the chicken from the slow cooker and set aside.

3. Add the pasta into the slow cooker and cook for an additional 30-40 minutes or until cooked through.

4. While the pasta is cooking shred the chicken into bite size pieces and add back into the soup.

5. Garnish with chopped parsley and serve with crackers if desired.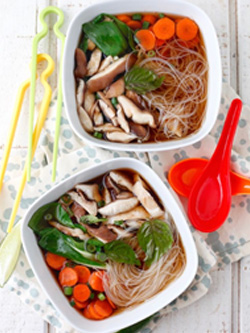 Vegetarian Pho
Vegetable Pho is a great source of fiber and vitamins. Fiber will keep you full and satisfied for hours and can prevent excessive day time snacking. Fiber also helps maintain a healthy and regular digestive system. It's important to incorporate at least 25-30 grams of fiber into your diet daily, especially if you have problems with constipation and bloating. Try the recipe below and feel free to incorporate more veggies for a more nutritious meal!(recipe and photo courtesy of weelicious.co)
What you'll need:
• 6 cups water
• 2 shallots, roughly chopped
• 1/2 cup dried shiitake mushrooms
• 10 garlic cloves, peeled and crushed
• 4 carrots, roughly chopped
• 1 inch piece ginger, peeled and roughly chopped
• 1/2 teaspoon black peppercorns
• 1/2 teaspoon whole cloves
• 1 tablespoon brown sugar
• 1/4 cup low sodium soy sauce
• 2 tablespoons Rice Vinegar
• 1 bunch cilantro, divided
• 1/2 teaspoon kosher salt
• 1 8-ounce package rice noodles
• 2 scallions, chopped
• 16 basil leaves
• 8 shiitake mushrooms, sliced
• 2 carrots, peeled and thinly sliced
• 2 baby bok choy, chopped
• 1 lime, cut into wedges
Directions:
1. To make the broth: In a large pot, combine the water, shallots, shiitake mushrooms, garlic, carrots, ginger, peppercorns, cloves, brown sugar, soy sauce, rice vinegar, and 1/2 bunch cilantro. Bring to a boil, reduce to simmer, cover, and simmer for 1 hour. Strain the broth and discard the solids. Keep the broth simmering until ready to use.

2. Cook the rice noodles according to package directions.

3. Divide the noodles between 4 bowls. Top with the scallions, basil, mushrooms, carrots, and baby bok choy.

4. Pour the hot broth over each bowl. Serve with lime wedges, remaining cilantro, and extra soy sauce.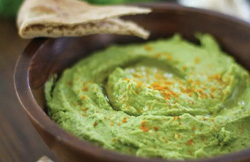 Roasted Garlic Kale Hummus
Kale throws a powerful nutritious punch into our diet! It's no surprise it has become such a popular superfood. Just one cup of kale can provide more than 200% of daily vitamin A and nearly 700% of vitamin K. Spice up your snack game with some kale hummus. Dip a mix of your favorite veggies and some pita chips into this deceivingly healthy super dip. (recipe and photo courtesy of thedailymeal.com)
What You'll need
• 7 cloves garlic, roasted
• 1 15- ounce can garbanzo beans, drained
• 1 cup tightly packed kale leaves
• 1/4 cup cup fresh lemon juice (about 2 lemons worth)
• 2-3 teaspoons water
• 1/4 cup tahini paste
• 1/2 teaspoons salt, or to taste
• Olive oil, for serving
Directions:
1. Preheat the oven to 400 degrees F. Wrap the garlic cloves (with the skin on) in aluminum foil and place in the oven to roast for 20 minutes. Allow the garlic to cool before peeling the skin off.

2. Add all ingredients to a food processor and blend until smooth

3. Serve the hummus with olive oil drizzled on top and with pita bread or fresh vegetables.

Although winter can be tough on your immune system, get on the right track by incorporating healthy foods into your diet!