Having a Fun Superbowl Sunday at Home
February 01, 2021
It's almost that time of year again! Super Bowl Sunday is coming up and everyone knows the best part of the superbowl are the commercials and the snacks.
Enjoy the game outside this year by setting up a TV in your pavilion. Having the shelter will be sure to shield you from unexpected weather. Bring out some cozy blankets and sit by your outdoor fireplace to keep warm while you cheer on your favorite team!
Grilled loaded Nachos
You heard that right! Take nachos to the next level by making them on a grill. These are quick and easy to make.Best part is that you can customize them with your own toppings and add your own flair to this classic dish. (photos and recipes courtesy acouplecooks.com)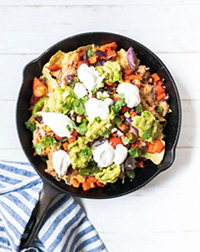 What you'll need:
• 1 red bell pepper
• 1 medium red onion
• 2 jalapeño peppers
• 1 15-ounce can pinto beans
• 1/2 cup Private Selection Salsa
• 1 tablespoon olive oil, plus additional for drizzling
• 1/4 teaspoon garlic powder
• 1/4 teaspoon kosher salt
• 5 ounces Mission Restaurant Style Tortilla Chips
• 1 cup shredded Colby Jack cheese
• 1 large green onion, thinly sliced
• Sour cream (or Vegan Sour Cream), for garnish
• Guacamole, for garnish
• Fresh cilantro leaves, for garnish
Instructions:
1. Heat a grill to medium heat.

2. Prep the veggies: Cut the bell pepper in half, top-to-bottom, and remove seeds and pith. Cut the stem off the jalapeños and use a paring knife to carefully remove seeds, leaving peppers whole. Cut the onion into quarters top-to-bottom, leaving the bottom root attached the pieces stay together on the grill. Place the peppers and onion into a bowl, then drizzle them lightly with olive oil and sprinkle with kosher salt.

3. Grill the veggies: Place the peppers and onion directly onto the grate and grill for 6 to 10 minutes until charred and slightly tender, turning occasionally. Remove from the grill and use for topping the nachos (below).

4. Make the beans: Drain the pinto beans and add them to a small bowl with the salsa, olive oil, garlic powder, and kosher salt. Mash with a fork until all beans are mashed and the texture is similar to chunky refried beans.

5. Assemble and grill the nachos: Place the tortilla chips into a medium cast-iron skillet or grillable pan. Top the chips with the beans, then cheese, and then the grilled veggies. Place the skillet on the grill until the cheese is melted, about 5 minutes.

6. Load the nachos: Chop the cilantro. Top the finished nachos with sliced green onions, sour cream, guacamole, and cilantro.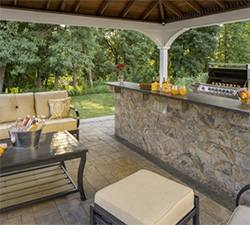 Drinks
We all know drinks are important when watching the game so stock up your outdoor bar with the essentials! Beer is a Super bowl staple. If you're not a fan of beer, make some cocktails at your outdoor bar! Make sure to have enough drinks so that everyone could help themselves to unlimited refills. Accommodate everyone's taste and preference by having a variety of different drinks .
Take advantage of your outdoor space early this year and watch the Superbowl outside! Sit back and cheer on your favorite team under your pavilion while enjoying some delicious snacks and drinks!