Valentines Day recipes for Date Night at Home
February 02, 2021
Valentine's Day is right around the corner! Wow your partner with these at home ideas to make your holiday extra special. Whether you're planning a dinner date for two or a cozy night in with your loved one, make this Valentine's Day an unforgettable one.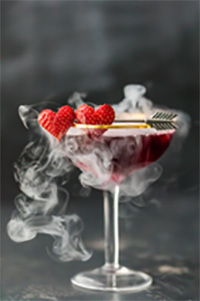 Love Potion Martini
Serve your special someone this love potion martini to start off your night! Seize the perfect opportunity to utilize your outdoor bar by trying your hand at some Valentine's Day inspired cocktails. With rose petal ice cubes and some dry ice this drink sets a sultry romantic ambiance for the rest of the night. (photo and recipe courtesy therookiecookie.com)
What you'll need:
• 1 cup pomegranate juice
• 3 ounces strawberry vodka
• 3 ounces Chambord Black raspberry Liqueur
• 2 small chunks dry ice (optional)
• 2 strawberries cut into hearts for garnish (optional)
Instructions:
1. In a cocktail shaker, combine the pomegranate juice, vodka, and Chambord. Shake to combine.

2. Place 1 chunk dry ice into the bottom of each glass.

3. Pour the martini over a very small piece of dry ice.

4. Garnish with skewered strawberry hearts if desired. Pretty cute :)

5. Wait 5-10 minutes for the dry ice to dissolve (and enjoy the fun show!) before drinking.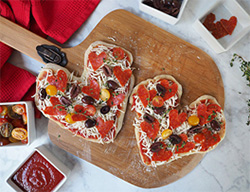 Heart shaped pizza
Surprise your loved one with a festive heart shaped pizza! Add their favorite toppings and watch how their heart melts! With a Cambridge Pizza Oven you can have a pizza party for the two! Follow this recipe but feel free to customize your toppings and make it a fun night in. (photo and recipe courtesy of ilovelindsay.com)
What you'll need:
• 1 lb pre-made pizza dough
• 1/4 cup pizza sauce
• 1 1/4 cup pre-shredded mozzarella cheese
• About 16 pepperoni slices, cut into hearts
• 1/4 cup Lindsay Kalamata Olives, halved
• 8 baby heirloom tomatoes
• 3 fresh thyme sprigs (or dried thyme)
• Olive oil, to brush on pizza
Instructions:
1. Preheat oven to 400F.

2. Remove pizza dough from packaging, coat dough lightly in flour and cut dough in half.

3. Form each half into a ball and cut a small slit in the top of each dough ball.

4. Use your hands and a rolling pin (if you have it) to shape the dough into a heart. Make the dough as thin as you can. Repeat with the second ball of dough.

5. Place pizza dough onto the stone, brush with olive oil and bake for 5 minutes.

6. While pizza is baking, cut pepperonis into heart shapes. Stack the pepperoni to speed up the process. Cut the olives and tomatoes in half.

7. Remove pizza dough from the pizza oven. Top evenly with pizza sauce, mozzarella cheese, pepperoni, olives, tomatoes and fresh thyme.

8. Bake for 15-18 minutes until crust is lightly browned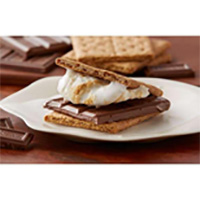 S'mores
What better way to spend Valentine's Day than cuddling around the firepit with a decadent snack! A gooey s'more is the perfect dessert to end the night. Warm your marshmallows to a crispy golden brown over your Cambridge fire pit.With three ingredients, this recipe is simple and delicious! (photo and recipe courtesy hersheys.com)
What you'll need:
• 2 graham crackers
• 2 marshmallow large
• 1 hershey's milk chocolate Bar
Instructions:
1. Center half of the chocolate bar on each of 2 graham cracker halves.

2. Place remaining 2 graham cracker halves on a cookie sheet; top each with marshmallow.

3. On middle oven rack, broil 30 seconds or just until marshmallows are golden brown.

4. Immediately invert onto chocolate-topped graham crackers; press gently.

5. Let stand 1 minute to soften chocolate. Serve immediately.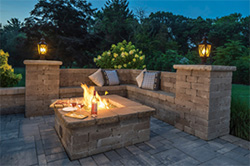 Enjoy these delicious snacks and drinks while cuddling around your Cambridge fire pit. Light up your firepit to keep warm and create the perfect romantic mood for the night. Bring some board games or turn on a romantic comedy to have an unforgettable fun bonding experience.
Make Valentines Day extra special at home this year with these romantic and delicious recipes!