Top 3 Most Extravagant Celebrity Backyards
February 03, 2021
We all know celebrities live a remarkably rich and fabulous lifestyle. With this lavish way of life, each celebrity has created an exquisite backyard based on their own unique style and taste to compliment their home and aesthetic .These incredible sanctuaries might even give you some new ideas for your own!
Jennifer Aniston
Jennifer Aniston is not only known for her incredibly successful career as a television and movie actress, but she has also created one of the most impressive gardens in the world of A-listers. To escape from the increasingly hectic life of a celebrity, she has transformed her backyard into a peaceful oasis. The beautiful towering trees that surround the yard not only ensure much needed privacy, they transport you to feel as if you are in an enchanted forest. The cool blue waters of her inground pool reflect all the beauty that surrounds them and allow for a refreshing dip on a hot summer day. Beautiful walnut planks surround the pool and create pathways throughout the backyard, where you can stroll and take in all the natural beauty. The poolside patio offers multiple lounging chairs and entices you to relax in the sun with friends and family. The elegant brickwork around her garden ties her whole backyard together and creates a modern color scheme throughout her yard. (photo courtesy of hellomagazine.com)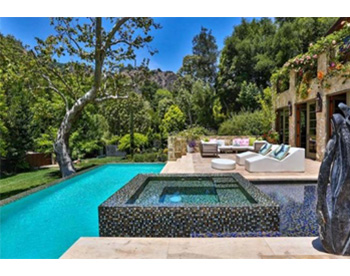 Jennifer Lopez
Jennifer Lopez's Bel-air estate is somewhat of an architectural wonder. With a mosaic tiled jacuzzi and sculptures all throughout the yard, it could easily be considered a work of art. It offers beautiful scenery, with trees surrounding the entire yard to enclose the property. The backyard features several patios where guests have a place to relax and unwind. When the weather is exceptionally good, Jennifer Lopez and her family use their outdoor dining space to enjoy the beautiful weather and have a sun filled dining experience. Perhaps the most prominent feature in the yard is the infinity pool. The pool stretches throughout the entire yard and even includes a central fountain that only enhances the yard's artistic aesthetic. (photo courtesy of priceypads.com)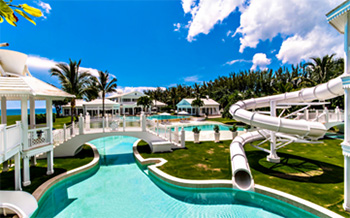 Celine Dion
Celine Dion's backyard is one that can easily be mistaken for a private vacation resort. With features like a water park, lazy river, tennis court and a private beachfront, vacation vibes are right outside her door! The water park stretches out throughout her entire backyard and is filled with various fun twisting slides. The beautiful scenery of the beach is seen just outside her window which adds to the peaceful atmosphere. On days when the singer and her family dont want to swim, they take advantage of the treehouse, sports courts, and various other activities to soak in the sun and spend some quality time together. With a magical backyard like this guests are guaranteed to have unlimited entertainment and lots of fun. (photo courtesy of nimvo.com)
Cambridge Extravagant backyard
Prepare your outdoor entertainment space this spring with Cambridge Pavingstone and ArmorTec! With features such as fire pits, pizza ovens, fireplaces, outdoor kitchens, seating walls, pergolas, pavilions. the possibilities are endless. Combine different features together to transform your backyard into an impressive outdoor space the whole family can enjoy. Whether you want to keep warm in the winter with a firepit or lay out on your new pool patio, Cambridge has you covered for every season. Plant some vibrant flowers and lighten up your backyard with LEDS to brighten up your backyard at night. Make your backyard your own slice of paradise!
Use these celeb backyards for inspiration and create your own unique stay-cation!