Saint Patrick's Day Celebration At Home
March 01, 2021
St Patrick's day is coming up and what better way to celebrate than gathering around a Cambridge fire pit with your family! Make some traditional corned beef and cabbage on your outdoor grill and stock your outdoor bar with the St Patrick's Day essentials!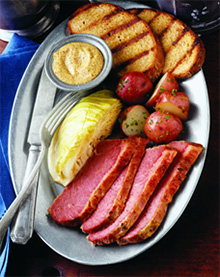 Corned Beef And Cabbage On The Grill
Impress your family with this delicious traditional Saint Patrick's Day Dish (recipe and photo courtesy weber.com):
What you'll need:
• 2 1/2 pounds corned beef (with spice packet)
• 1 celery rib, trimmed, cut into 1/2-inch diagonal slices
• 1 carrot, peeled, cut into 1/2-inch diagonal slices
• 1 small yellow onion, cut into thin wedges
• 2 garlic cloves, crushed with the side of a knife
• 1 can (28 ounces) diced tomatoes in juice
• 1/2 head (1 pound) green cabbage, cut into 4 wedges, cores slightly trimmed
• 10 small red potatoes, each cut in half
• 2 teaspoons whole-grain mustard

Directions:
• Unwrap the corned beef and pat dry with paper towels. Allow the beef to stand at room temperature for 15 to 30 minutes before grilling.

• Prepare the grill for indirect cooking over medium heat (350° to 450°F).

• Arrange the celery, carrot, onion, and garlic in a 13-by-9-inch heavy-duty foil pan. Place the corned beef on top of the vegetables. Sprinkle the contents of the spice packet over the corned beef and rub into the surface of the meat. Add the tomatoes and 3 cups of water to the pan.

• Brush the cooking grates clean. Tightly cover the pan with heavy-duty aluminum foil and grill over indirect medium heat, with the lid closed, for about 2 hours. Remove the pan from the grill. Place the cabbage wedges and potatoes around the corned beef and spoon the cooking juices on top. Cover the pan with foil and continue grilling over indirect medium heat, with the lid closed, until the corned beef, potatoes, and cabbage are tender, about 1 hour more. Transfer the corned beef to a cutting board and spread the mustard on top. Let stand 5 minutes before carving the meat across the grain into 1/2-inch slices. Serve corned beef slices with the cabbage and potatoes, with juices spooned over everything, along with grilled rye bread, if desired.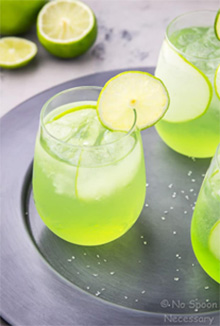 Sour Apple Tequila Cocktail
Make some unique Saint Patrick's Day drinks at your very own Cambridge cocktail bar! This refreshing and effervescent cocktail serves a boozy tequila punch with subtle hints of sweet and sour apple and lime. The vibrant green color of the drink adds to the St Patrick's Day theme and offers an array of delicious flavors!
What you'll need:
• 1 1/2 oz Tequila
• 1 1/2 oz Sour Apple Liqueur
• 1 oz Lime Juice
• 1/2 oz Agave (optional)*
• Sprite to taste*
• Optional Garnishes: Lime Wedges, Slices of Apple

Directions:
1. Fill a shaker with ice and pour in all ingredients, EXCEPT the Sprite.

2. Shake vigorously until the shaker is chilled to the touch.

3. Fill a highball glass with ice and slices of apple (if using). Strain the cocktail into glass. Top with sprite and garnish with a wedge of lime. Enjoy!
(recipe and photo courtesy nospoonnecessary.com)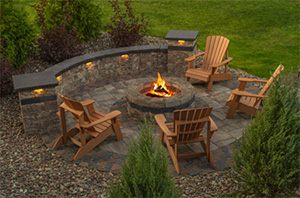 Fire Pits are essential when spending time with your family outside. They serve as the main source of heat and ensure everyone will stay warm and cozy throughout the night. So grab your homemade cocktails and gather around the firepit with your family to enjoy the night!