Breaking The Stereotypes On Above Ground Pools
March 03, 2021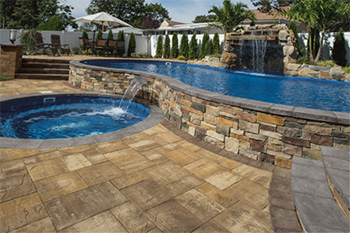 Who doesn't love a refreshing dip in the pool after a long hot day in the sun? Above ground pools have the reputation of being not as appealing as in ground pools, but with a little creativity you can create your own unique above ground pool to complement your backyard!
Above Ground vs. In ground
When deciding whether to invest in an inground pool or an above ground pool keep in mind above ground pools require less space and maintenance. Installation of above ground pools are fast and easy. Be sure to consider the amount of space it will take up in your backyard. Your pool must be 10 feet away from your house, and far enough away from your neighbors to prevent any problems that can be inflicted on either property. Safety is also of utmost importance. Finding a perfect spot in your backyard is essential to keeping your pool clean, warm, and in perfect condition for everyone to enjoy!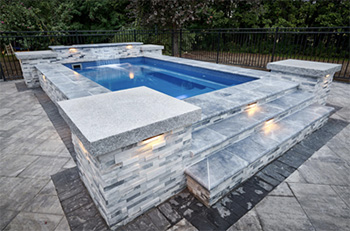 Stone Veneer
Create a luxurious backyard oasis with Cambridge Pavers stone veneers. Stone Veneer is suitable for all climates. They tend to range in size, shape, and colors so you can always find a style that complements the rest of your backyard. These elegant stone veneers can revamp any pool space, and make you feel like you're at a luxury spa resort every day! Add some lights around your pool to extenuate the pool's beauty even when you're not inclined to take a dip. Stone veneers are a beautiful way to blend in with the natural environment and make your above ground pool appear higher end. (photo courtesy of Stoneridge)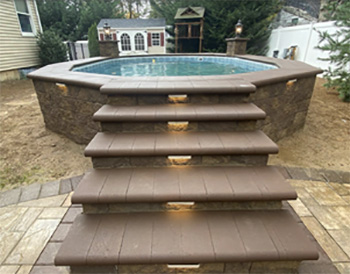 Pool Patio
A pool patio will expand your pool's space and offer a place to lay out and soak in the sun. Cambridge Pavers offer a variety of shapes and colors that are fit for any personal style! These elegant and unique pavers will give a clean, modern aesthetic that complements your pool flawlessly! Add a permanent pool staircase for that perfect finishing touch. Say goodbye to the days of rickety metal pool ladders and hello to luxury!
Create the perfect summer staycation right in your own backyard and transform your above ground pool into something spectacular!