The Ultimate Guide to A Fun Easter At Home
April 01, 2021
Looking for some festive Easter celebration ideas for this year? Take Easter fun into your own hands and create some fun activities and dishes your whole family will love!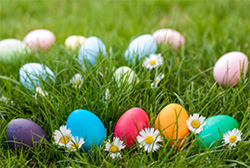 Easter Egg Hunt
Arrange a classic annual Easter egg hunt right in your backyard. Stuff some goodies and surprises into the eggs and let the competition begin! Kids love this exciting tradition and adults can have fun too while looking for hiding spots in their yard for the decorative eggs. Take advantage of the warm weather and your outdoor space by bringing the Easter fun outside! (photo courtesy weaverinsurance.com).
Coloring Easter Eggs
Decorating easter eggs is the highlight of Spring for many kids. It is a fun and creative project that the whole family can get involved in. There are an unlimited number of ways to decorate your eggs depending on your desired style. Whether you paint, dye or color your egg, have fun and be creative! All of the colors and dyes can get messy and cleaning up can be a challenging task. Eliminate the mess by using your outdoor space to decorate your Easter eggs. This way there are no unnecessary stains in your kitchen and the clean-up is hassle free!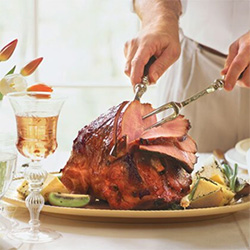 Sweet-Hot Plum-Glazed Ham Recipe
After a fun day of egg hunts and decorating treat your family and friends to some delicious sweet- hot plum glazed ham. Make this easy and tasty recipe at your own Cambridge outdoor kitchen!
Ingredients
• 1 cup plum preserves
• 1/2 cup orange juice
• 2 tablespoons lime juice
• 1 tablespoon yellow mustard
• 1 tablespoon honey
• 2 teaspoons minced fresh ginger
• 1/2 teaspoons dried crushed red pepper
• 1 (7-lb) smoked fully cooked, bone-in ham
• Garnishes: pineapple, kiwifruit, green onions, black sesame seeds
Directions
1. Stir together first 7 ingredients in a saucepan over medium-high heat; bring to a boil, stirring constantly. Reduce heat to medium-low; simmer, stirring constantly, 5 minutes or until preserves are melted and mixture is blended. Pour half of plum preserve mixture into a microwave-safe bowl.
2. Trim excess fat on ham to 1/8-inch thickness. If desired, make long, shallow cuts (about 1/16-inch deep) over entire ham, forming diamond patterns. Place ham on a wire rack in an aluminum foil-lined roasting pan. Brush ham with a portion of plum preserve mixture in saucepan.
3. Bake ham, uncovered, at 350° on lower oven rack 1 hour and 30 minutes, basting with remaining plum preserve mixture in saucepan every 30 minutes. Loosely cover with aluminum foil and bake 1 hour and 45 minutes or until a meat thermometer inserted into the thickest portion registers 140°, basting every 30 minutes. Let ham stand 15 minutes before slicing. Garnish, if desired.
4. Microwave plum preserve mixture in bowl at HIGH 1 minute or until thoroughly heated. Serve ham with warm mixture.
Cozy Up to The Firepit
As the chilly spring afternoon approaches, grab some cozy blankets and gather around with your family at your Cambridge firepit to end the night right!
Take advantage of your outdoor space this Easter by hosting a unique and fun egg hunt the whole family will enjoy. Soak in the warm Spring sun and make the day unforgettable!