Getting Your Garden Ready for Spring
April 02, 2021
Create an outdoor space that is more appealing this Spring with a colorful and bright garden! Gardening is a great way to get in touch with nature and can be a therapeutic activity. Flowers generate positive energy and help people stay more relaxed. Transform your backyard with vibrant pops of color. You can even plant your own fruits and vegetables to have access to fresh produce! Get the whole family involved and make your garden a project that everyone will enjoy.
Soil Care
There are four essential elements plants need for proper growth: matter, air, water, and organic nutrients. Soil is the key component in supporting plant roots and proper growth. Make sure to check your soils pH levels, moisture, nutrients and organic matter composition. If properly cared for your soil can be replenished each year so that it can continue to grow plants for many seasons to come. Neglected soil will sprout weeds and cause complications. One of the most important factors to keep in mind is the topsoil. The topsoil is the uppermost level of your soil that ensures healthy plant growth. Pick a dry day to plant your seeds and water them daily. Feed your soil its proper nutrients in order to nourish your garden and keep it problem free!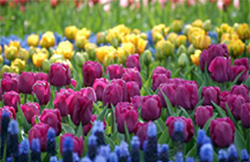 Tulips
Tulips are one of the most popular quintessential spring flowers, as they have a wide variety of colors and hues. Their spectacular bright and sunny shades offer vibrant pops of color to your garden. Not to mention they are one of the easiest flowers to grow, perfect if you are busy and want a low maintenance garden! (photo courtesy of gardenia.net)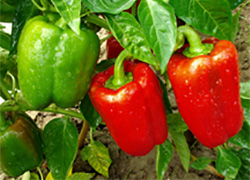 Bell Pepper
Bell peppers are a great addition to any garden. The peppers' rich green leaves and brightly colored coating makes them great for even the most solemn gardens. Pick them fresh from your garden and incorporate them in any dish! Nothing beats the crispy crunch of a hand-picked vegetable. (photo courtesy of HGTV)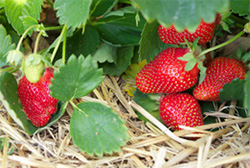 Strawberries
Everyone loves a juicy sweet strawberry! These berries are packed with vitamins, fiber, and antioxidants. The great thing about strawberries is they're easy to grow as long as they are in an area that gets a lot of sun. Add them to your morning smoothies for some delectable sweetness or eat them fresh from your garden! (photo courtesy of bonnieplants.com).
So, what are you waiting for?! Get gardening and watch how it changes the look of your outdoor space and your overall mood! Spring is the perfect time to start this family fun project.