Working Remotely in Your Outdoor Space
April 03, 2021
This past year, the majority of people have shifted from working in the office to at home. If you still don't have an at home office, now is the perfect time to create a space that not only is perfect for working but creates a relaxing atmosphere. Outdoor living rooms are a huge trend right now, so why not make that extra outdoor room into your new home office?! Re-vamp and design a space that will bring you positive energy while you are getting things done. With Spring and Summer just around the corner why not design an outdoor space where you can enjoy the sun and fresh air during your conference calls.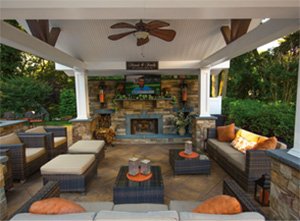 Cambridge pergolas and pavilions can help seamlessly section off an office space right in your own backyard. Set up a quiet and comfortable space away from your family and any unnecessary distractions. Combine the comfortable feeling of your indoor home office with the refreshing feeling of being outside. Staying inside all day can get exhausting and stressful. Help combat the Zoom fatigue we've all been experiencing and get outdoors!
Transform your outdoor space into a home office with the new Cambridge K-bana! The louvered panels allow the perfect amount of sunlight control and protect from the wind, rain and snow. With the ability to customize your own style and design you can make your outdoor office space into something cozy and unique!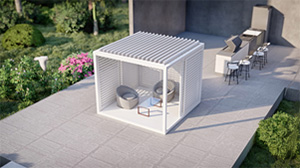 Add some colorful decorations that will complement the rest of your backyard and add beautiful pops of color! Most importantly make sure to have a comfortable chair and table that is conducive for working Monday through Friday.
Cambridge K-bana, Pavilions and pergolas are all great at casting shade on hot sunny days and will make sure to shield you from unexpected weather. Not to mention they are very low maintenance and versatile for any occasion. This will allow you to utilize your outdoor office space throughout all four seasons!