Fire up the grill!
May 02, 2021
As we begin to feel the heat glistening our skin, now is the perfect time to fire up the grill and cook for the family! Outdoor cooking is hassle-free and allows you to be present during memorable moments without having to constantly run in and out of the house. Open-air dining is a great way to bond with your loved ones, so we encourage you to get your tan on and enjoy your family meals outside!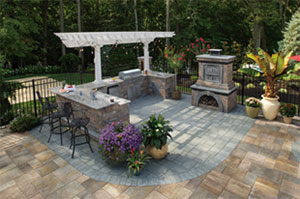 Whether you are hosting a barbecue or having a casual family meal, a Cambridge outdoor kitchen is perfect for any occasion! Utilize your outdoor kitchen all four seasons and enjoy the fresh air. Try out these trendy recipes and impress your family with your grilling skills!
Grilled Chicken Sandwich with Caesar-ish Dressing
Impress your family and friends with this unique chicken sandwich. Grill the chicken thigh to your liking and enjoy with a side salad or homemade fries!
(recipe and photo courtesy of bonappetit.com)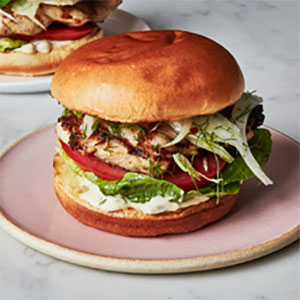 What you'll need:
• 1 Tbsp. Dijon mustard
• 2 tsp. Worcestershire sauce
• 2 garlic cloves, finely grated
• 2 Tbsp. plus 2 tsp. fresh lemon juice
• 2 tsp. freshly ground black pepper, plus more
• 1/3 cup plus 2 tsp. extra-virgin olive oil, plus more for grill
• 6 Tbsp. mayonnaise
• 1/4 cup chopped cornichons (about 9)
• Kosher salt
• 4 large or 6 small skinless, boneless chicken thighs (about 1-1/2 lb. total)
• 4 brioche buns, split
• 1 medium fennel bulb, thinly sliced crosswise, fronds reserved
• 1 cup basil leaves
• 1/4 tsp. crushed red pepper flakes (optional)
• 1 small head Little Gem lettuce
• 1 medium tomato, sliced 1/4" thick
Directions
• Whisk mustard, Worcestershire, garlic, 2 Tbsp. lemon juice, and 2 tsp. black pepper in a medium bowl. Whisking constantly, stream in ? cup oil until emulsified. Transfer half of marinade to a small bowl, then whisk in mayonnaise and cornichons (this will be the special sauce). Season mayo dressing with salt; set aside.

• Season chicken thighs with salt and add to medium bowl with remaining marinade. Toss to coat. Let sit at room temperature, tossing occasionally, at least 30 minutes, or chill up to 4 hours.

• Prepare a grill for medium-high heat. Lightly oil grate. Grill chicken, turning once halfway through, until well charred and cooked through, 8–10 minutes. Transfer to a platter and let rest 5 minutes. If you have 6 chicken thighs, cut 2 of them in half and use 1-1/2 thighs per sandwich.

• Grill buns cut side down until lightly charred, about 30 seconds. Transfer to platter with chicken.

• While chicken rests, coarsely chop fennel fronds. Toss fronds, sliced fennel, basil, red pepper flakes (if using), and remaining 2 tsp. oil and 2 tsp. lemon juice in a medium bowl; season with salt and black pepper.

• Spread reserved mayonnaise dressing on cut sides of each bun. Arrange 1–2 lettuce leaves and sliced tomato on bottom halves. Top each with chicken, then arrange fennel salad over. Close sandwiches with top buns.
Fish Tacos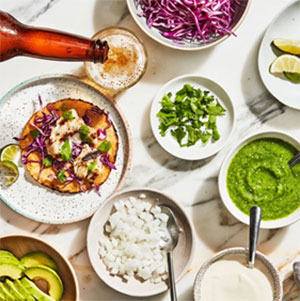 A classic yet delicious dish that will have everyone coming back for more. Enjoy these tasty fish tacos with a cold refreshing margarita for that extra kick! (recipe and photo courtesy of bonappetit.com)
What you'll need:
• 2 garlic cloves, finely chopped
• 3 Tbsp. fresh orange juice
• 1 tsp. dried oregano (preferably Mexican)
• 2 cups chopped white onion, divided
• 3/4 cup chopped cilantro, divided
• 1/4 cup extra-virgin olive oil, plus more for grill
• 5 Tbsp. fresh lime juice, divided
• 1 lb. tilapia, striped bass, or sturgeon fillets
• Kosher salt, freshly ground pepper
• 1 cup mayonnaise
• 1 Tbsp. milk
• 4 corn tortillas
• 2 avocados, peeled, pitted, sliced
• 1/2 small head of cabbage, cored, thinly sliced
• Salsa verde
• Lime wedges (for serving)
Directions:
• Stir garlic, orange juice, oregano, 1 cup onion, 1/4 cup cilantro, 1/4 cup oil, and 3 Tbsp. lime juice in a medium bowl. Season fish with salt and pepper. Spread half of onion mixture over bottom of 11x7x2" glass baking dish. Arrange fish over onion mixture. Spoon remaining onion mixture over fish. Cover and chill 30 minutes. Turn fish; cover and chill 30 minutes longer.

• Whisk mayonnaise, milk, and remaining 2 Tbsp. lime juice in a small bowl.

• Prepare a grill for medium-high heat; brush grate with oil. Grill fish, with some marinade still clinging, until just opaque in the center, 3–5 minutes per side. Grill tortillas until slightly charred, about 10 seconds per side.

• Coarsely chop fish; arrange on a platter. Serve with lime mayonnaise, tortillas, avocados, cabbage, Salsa Verde, lime wedges, and remaining 1 cup chopped onion and 1/2 cup cilantro.
Take advantage of the warm weather and enjoy these delicious recipes fresh from your outdoor kitchen!