No Passport Needed, Resort Style Amenities
September 20, 2016
Are you looking to take a break from your stressful life and get away on a dream vacation? People often visit resorts to enjoy all the amenities that they provide and relax in a stress-free environment. However, there''s no need to take a plane to a five-star hotel! With Cambridge Pavingstones with ArmorTec, all you need to do is walk outside to your own backyard.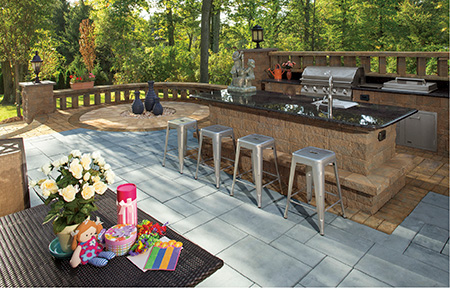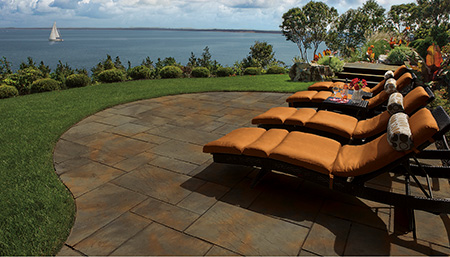 Find out how Cambridge provides all of the resort amenities in the comfort of your backyard:
1. Outdoor Dining
• There''s nothing like dining under the stars, especially during the warmer months. Resorts often provide guests with outdoor eating experiences like waterfront dining or dinners with a spectacular view. Enjoy the same feel with Cambridge Pavingstones with ArmorTec.

• Enjoy your meal outside, Cambridge style. Utilize a Cambridge Pizza Oven to bake a fresh pizzeria-style pizza or fire up a Cambridge Grill to cook your favorite barbecue foods. With a Cambridge Bistro Table, you can enjoy your meal with a beautiful polished granite tabletop.
2. Poolside Relaxation
• Relaxing by the pool is a must at a resort hotel. With Cambridge Pavingstones with ArmorTec you can enjoy that same vacation feel by adding beautiful pavers that accentuate your pool''s beauty.

• No pool? No problem! Consider adding a Cambridge Waterfall feature to add to your backyard ambience. Be sure to get some relief from the sun with a Cambridge Pergola or Pavilion. A pergola or pavilion provides plenty of shade while adding some style to your yard. Consider an Arlequin Pergola with simple sliding panels that allow you to decide where you want the shade. There''s also the Bioclimatic Pergola with blades that shift with the changing weather!
3. Nighttime Entertainment
• No vacation is complete without some nighttime activities. Enjoy the night accompanied by family and friends with a Cambridge Bar. Whip up some cocktails and share some time with one another.

• Bring those drinks to talk around a Cambridge Fireplace! A fireplace can be used year-round with different colors and styles to choose from. If a fireplace isn''t for you, be sure to enjoy a Cambridge Fire Pit. A fire pit is the perfect gathering spot for friends and family and you can choose between gas burning or wood burning.

• Make sure your yard is well lit with Cambridge Hardscape Lighting. Lights are available in LED and solar versions and will be sure to help illuminate your resort worthy backyard.