Father's Day BBQ Recipes
June 02, 2021
Father's Day is a day to honor the loving dads who put their families first. Our fathers have worked hard to raise us into who we are today and deserve to be appreciated. Celebrate this Father's Day outside and help your dad make some delicious food for the whole family! Take advantage of the warm weather and fire up the Cambridge outdoor grill or pizza oven and enjoy these innovative Father's Day recipes!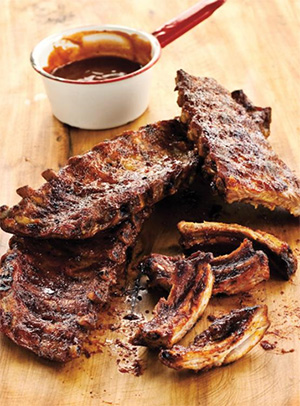 Barbecued Ribs
These saucy and flavorful ribs will have everyone coming back for more! The homemade Dry rub and barbecue sauce create the perfect combination of sweet and tangy to satisfy everyone's taste! (recipe and photo courtesy of ricardocuisine.com)
What you'll need:

Dry rub
• 2 tbsp brown sugar
• 1 tbsp chili powder
• 2 tsp salt
• 1 tsp ground pepper
• 1 tsp dry mustard
• 1/2 tsp onion powder
• 5 lb (2.27 kg) pork baby back ribs

Barbecue Sauce
• 1 tsp chili powder
• 1 tsp onion powder
• ½ tsp garlic powder
• 2 tbsp (28 g) butter
• 3/4 (180 ml) ketchup
• 3/4 (180 ml) apple jelly
• 1/4 cup (60 ml) apple cider vinegar
• 2 tbsp (30 ml) molasses
• 1 tbsp (15 ml) Dijon mustard
• 1 tbsp (15 ml) Worcestershire sauce
• Tabasco sauce, to taste
• Salt and Pepper

Directions:

Dry Rub
1. In a bowl, combine all the ingredients. Set aside.

2. On a work surface, use paper towels to peel away the white membrane (silverskin) on the back of the ribs. Place the ribs on a baking sheet and rub both sides generously with the spice rub. Cover and refrigerate for at least 1 hour, or overnight.

3. With the rack in the middle position of the oven, preheat the oven to 325°F (170°C).

4. Wrap the ribs, two racks at a time, in heavy-duty aluminum foil. Transfer to a baking sheet. Bake for about 2 hours, or until the meat is tender.

Barbecue sauce
5. Meanwhile, in a small saucepan over medium-high heat, cook the spices in the butter for 1 minute. Add the remaining ingredients, bring to a boil and simmer over low heat for about 5 minutes or until the sauce becomes syrupy. Season with salt and pepper.

6. Preheat the grill, setting the burners to medium. Oil the grate.

7. Remove the ribs from the foil and grill for 4 to 5 minutes on each side, brushing with half of the barbecue sauce. Serve with the remaining sauce.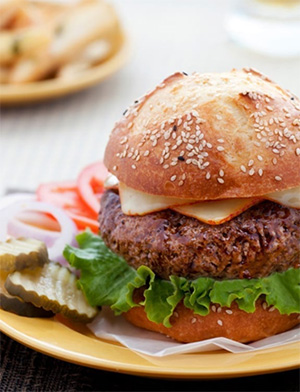 Steakhouse Burgers
Impress your loved ones with the ultimate steakhouse burger. These juicy burgers are big, flavorful, and easy to make! (recipe and photo courtesy of onceuponachef.com)
What you'll need:

• 2 pieces white sandwich bread, crusts removed and cut into 1/4 inch pieces
• ? cup milk
• 2-1/2 teaspoons kosher salt
• 1 teaspoon freshly ground black pepper
• 3 garlic cloves, minced
• 1-½ tablespoons Worcestershire sauce
• 2 tablespoons ketchup
• 3 pounds 85% lean ground beef
• 3 scallions, very finely sliced (optional)
• 8 hamburger buns

Directions:
• Preheat the grill to high heat.

• In a large bowl, mash the bread and milk together with a fork until it forms a chunky paste. Add the salt, pepper, garlic, Worcestershire sauce and ketchup and mix well.

• Add the ground beef and scallions and break the meat up with your hands. Mix everything together until just combined. Divide the mixture into 8 equal portions and form balls. Flatten the balls into 3/4-inch patties about 4-1/2 inches across. Form a slight depression in the center of each patty to prevent the burgers from puffing up on the grill.

• Oil the grilling grates. Grill the burgers, covered, until nicely browned on the first side, 2 to 4 minutes. Flip burgers and continue cooking for a few minutes more until desired doneness is reached. Before serving, toast the buns on the cooler side of the grill if desired.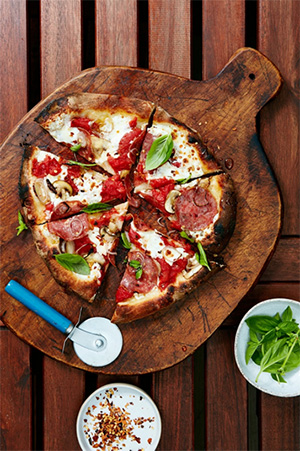 The Duckor Deluxe Wood-Fired Pizza
Who doesn't love a fresh hot pizza straight out of the oven? Utilize your Cambridge outdoor pizza oven to make some yummy homemade pizzas. Bring your whole family together and create your own personalized pizzas. With the ability to customize your toppings the possibilities are endless! (recipe and photo courtesy of epicurious.com)
What you'll need:
• 1 (28-ounce) can whole peeled tomatoes (preferably San Marzano)
• Cornmeal (for dusting)
• 1 pound pizza dough, divided into 2 even balls
• Kosher salt, freshly ground black pepper
• 8 ounces fresh mozzarella, torn into bite-sized pieces, divided
• 4 medium crimini or button mushrooms (about 2 ounces), thinly sliced, divided
• 2 ounces thinly sliced cured meats, such as pepperoni, soppressata, and/or salami, divided
• 1 shallot, thinly sliced into rings, divided
• Honey, crushed red pepper flakes, and basil leaves (for serving)

Directions:
• Prepare a charcoal grill for high heat, stacking lit coals in the rear of the grill. Add logs to charcoal. Place pizza-oven attachment on grill; place pizza stone on grate.

• Let grill reach 800°F, about 5 minutes. Meanwhile, drain tomatoes in a colander. Crush into small pieces with your hands, drain again, and transfer to a medium bowl.

• Lightly dust pizza peel with cornmeal. Working with 1 piece at a time, stretch dough, letting it hang off your fingertips and rotating quickly around the edge, until dough is about 10" in diameter (it doesn't need to be a perfect circle). Transfer dough to prepared pizza peel and top with half of tomatoes; season with salt and pepper. Top with half of cheese, mushrooms, meats, and shallot. Season with salt.

• Carefully slide pizza directly onto pizza stone and cook until rear crust begins to bubble and char, 60–90 seconds. Rotate pizza 180° and continue to cook until crust is charred and bubbly on the other side, 60–90 seconds more.

• Using pizza peel or a very large heatproof spatula and tongs, transfer pizza to a cutting board or metal pizza tray. Drizzle with honey and top with red pepper flakes and basil. Slice and serve immediately. Repeat with remaining dough, tomatoes, cheese, mushrooms, meats, and shallot.
Make Fathers Day special this year with these creative and fun recipes! Stock up your outdoor bar and enjoy a barbecue in the comfort of your own home.