Fourth of July Cocktails
July 01, 2021
Fourth of July is right around the corner, which means it's time to celebrate Independence Day! Plan an unforgettable day filled with fun activities for your friends and family to enjoy!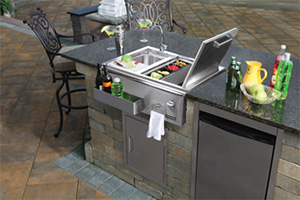 Take advantage of the warm weather and host a barbecue outside! Prepare your food and drinks at your outdoor kitchen to eliminate the mess indoors and keep the process hassle free! Keep the patriotic theme with some fun and creative red, white, and blue cocktails. Sit back and watch the magical fireworks light up the sky while sipping on these delicious and refreshing drinks!
This beautiful red, white, and blue cocktail combines various sweet and spicy elements to create an explosion of delicious flavor everyone will love! (Recipe and photo courtesy of foodnetwork.com)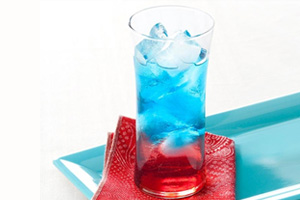 What you'll need:
• 1 ounce watermelon schnapps
• 1 big splash cranberry juice
• 1 very thin slice jalapeno or serrano pepper
• 1 slice lemon
• 1 slice lime
• 1 1/2 ounces tequila
• 1/4 ounce blue curacao
• 1/2 ounce simple sugar
• Watermelon wedge, for garnish (optional)

Directions:
• Mix the schnapps and cranberry juice in a shaker; pour into an ice-filled glass

• Muddle the jalapeno pepper, lemon and lime slices, tequila, blue curacao, and simple syrup (to make a batch, dissolve sugar in equal parts hot water and chill) in the shaker. Slowly strain into the glass over the red layer. Garnish with watermelon, if desired.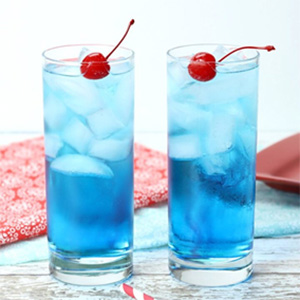 With a blend of citrus and peach flavors this delicious cockatiel will become a year-round favorite! Serve with some ice and a cherry on top for that extra treat on a hot summer day! (recipe and photo courtesy of thetoastykitchen.com)

What you'll need: • 1-ounce blue curacao
• 1 ounce peach schnapps
• 1-ounce clear rum
• 3-4 ounces club soda
• 1 maraschino cherry

Directions:
• Fill a highball glass with ice. Add blue curacao, peach schnapps, and clear rum. Top with club soda and stir to combine.

• Top with a cherry. Enjoy!

Keep the 4th of July spirit alive all day long with this fun and innovative firework boozy shake. Experience the magic in a cup with bursts of sweet raspberry vodka flavor and creamy cold ice cream! (recipe and photo courtesy of boguesounddistillery.com)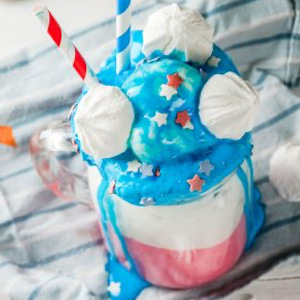 What you'll need:
• 1 oz Vitellin vodka
• 1 oz Raspberry vodka
• 3 scoops Raspberry sorbet
• 1 oz curaçao
• 6 tbsp milk, divided
• 6 scoops vanilla ice cream
• Sprinkles, garnish

Directions:
• Add 3 scoops of vanilla ice cream, 2 tbsps. milk and Curaçao to a blender. Blend and pour into two glasses. Freeze for 20 minutes.

• Clean blender and add 3 scoops vanilla ice cream, 2 tbsps. milk and Vitzellen Vodka. Blend then pour into glasses on top of blue layer. Freeze 20 minutes.

• Rinse the blender. Add 3 scoops of raspberry sorbet, 2 tbsps milk and raspberry vodka. Blend then pour over white layer.

• Top each shake with whipped cream and garnish with sprinkles.

• Enjoy!

Utilize your outdoor bar this 4th of July and serve these delicious drinks that will keep the party going all night long! Gather around the firepit and watch the fireworks glisten and spark in the sky as you sip on these refreshing drinks!