Outdoor Summer Brunch
July 02, 2021
There's no better way to start the day than surrounded by your favorite people, eating delicious breakfast food, and sipping on a Mimosa (or two). Most brunch foods are quick and easy to make, so be creative and keep it simple!
Outdoor Kitchen
Open air dining is a fun way to spend time with your family and friends, so take brunch outside this year! Utilize your Cambridge outdoor kitchen and bar to cook up something delicious for everyone to enjoy. An outdoor kitchen will allow you to have a stress-free brunch and will make clean-up a breeze!
Outdoor Bar
It's not brunch without some Mimosas! Stock up your outdoor bar with a selection of juices to pair with some bubbly champagne! Pineapple, peach, mango, and grapefruit juice are all fantastic choices to spice up your mimosa and add a unique flavor. If you don't like mimosas, Bellinis or Bloody Marys are great alternatives. Make sure to have enough refreshing drinks for everyone to enjoy throughout the hot summer day!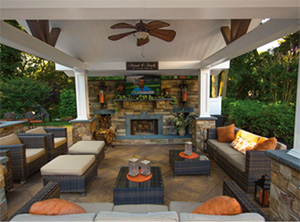 Pavilion
Keep it cool by setting up seating and refreshments under a pavilion! A pavilion will shield you from the sun and give the illusion of an outdoor "room". Keep your guests entertained all day long with an outdoor TV and some upbeat music. Bring out some blankets and turn on your Cambridge fireplace to create a cozy "laid back vibe" everyone will love!
Breakfast Skillet
Looking for a simple and easy breakfast recipe? This skillet won't disappoint! The cheesy potatoes, eggs and bacon make this breakfast recipe a hit! (recipe and photo courtesy of gimmesomegrilling.com)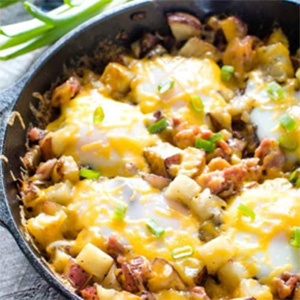 What you'll need:

• 3 Tbsp butter
• 4 red potatoes chopped
• 2 tsp vegetable oil
• 1 1/2 tsp seasoned salt divided
• 1/2 tsp salt
• 1/2 tsp ground black pepper divided
• 8 oz bacon 1/2" diced pieces
• 2 garlic cloves minced
• 4 eggs
• 1/2 c. extra-sharp cheddar cheese

Directions:

1. Preheat grill to 400 degrees.

2. In a bowl mix together diced potatoes, vegetable oil, seasoned salt, salt, and ground black pepper.

3. Place cast-iron skillet on grill. Heat butter in skillet. Add potato mixture and bacon to skillet; close grill lid and cook until brown and tender; stirring occasionally. Add garlic right before potatoes are done cooking and sauté for about 1 minute.

4. With back of spoon, make four wells in the potato mixture; break eggs into wells. Close grill lid and bake until egg whites are completely set, and yolks begin to thicken but are not hard. This will take about 9-11 minutes.

5. Open grill and sprinkle cheese on skillet. Close grill lid and let cheese melt for a few minutes.

Most importantly don't stress! Your guests will feel more encouraged to have a good time if they see you are too so grab a drink and relax!