Making a Splash this Summer!
July 03, 2021
Imagine stepping into your dream outdoor oasis and hearing the peaceful sound of water trickling down from a fountain, and a cozy fire pit that will light up your outdoor space on a quiet summer night. Can you already feel yourself sinking into vacation-relaxation mode?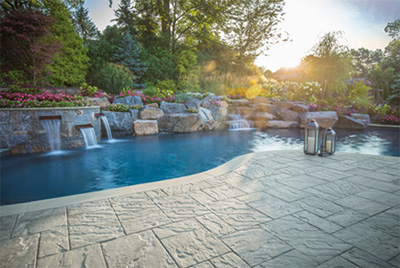 Summer is the ideal time for home improvement. Longer days and shorter nights allow us to enjoy more time outdoors with our friends and family. Design the perfect outdoor oasis with your dream pool patio! A pool patio is a great hangout spot for your kids and encourages you to spend more time with your family. Re-create a spa experience right at home with luxurious stone veneers and pavers that accentuate. Consider having a waterfall flowing into your pool to add a peaceful "ambiance". Enjoy your oasis while lounging on a cozy pool chair or soaking in the sun on a floaty!
Pavers come in many different sizes and colors, so get creative with your space! Cambridge offers a wide variety of modern and traditional style pavers that help you achieve your desired aesthetic. Not only are they beautiful, but they'll stand up to years of harsh weather and foot traffic!
The Modern Look
Modernize your outdoor space by incorporating XL smooth pavers into your pool patio. The Ledgestone XL 3-pc design smooth kit collection in Limestone quarry, or bluestone blend, offers a smooth look that will elevate the look of your outdoor space and create a beautiful finish!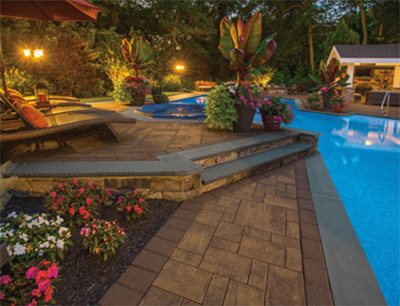 The Classic Look
Looking for more of a traditional vibe? The Roundtable 6x9 collection offers a classic aesthetic. Why choose a more traditional look? Urdesign magazine puts it perfectly. "Traditional design has long been popular, and it is largely considered to present with timeless aesthetic value. Traditional design focuses on rich and dark colors as opposed to modern design where the principal emphasis is on using muted colors and large open spaces."
Enhance your pool patio and make a splash this summer with our versatile selection of pavers!