Planning the outdoor living space of your dreams
August 01, 2021
Outdoor living spaces have become a must have over the past few years. People are learning the importance of expanding their living space outdoors to enjoy their backyard all year round. When planning your outdoor renovation, you should first ask yourself "what do I want to accomplish with my space?".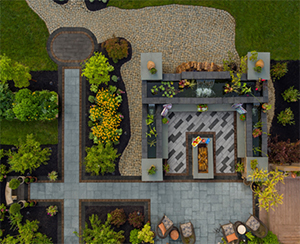 Inspiration
Planning your dream outdoor living space can be an investment depending on what your goals are. There are hundreds of different pavements, designs, colors, patterns, shapes, blends and more that you can choose from to achieve your desired aesthetic! Start by gathering inspiration and figuring out what you want to accomplish in your outdoor space. Luckily there are plenty of resources that make finding inspiration super easy including our Pinterest, Instagram, Houzz, distributor locations, catalogs and even your friends and family!
Budget
When renovating your outdoor space consider prioritizing the changes that will have the greatest impact first- the things that will get the most bang for your buck! Small changes can have a dramatic effect as well. The great thing about choosing to put your outdoor renovation first is that you can do it in phases. Setting small goals will help you stick to your budget while still creating the outdoor space of your dreams! If you're looking to save money keep in mind every factor and expense needed to sustain each amenity you chose to install. Some amenities require a lot more maintenance and care than you may be willing to invest. On the bright side you don't need a ton of money to breathe new life into your outdoor space. Cambridge can help you design a breathtaking backyard for budgets both big and small!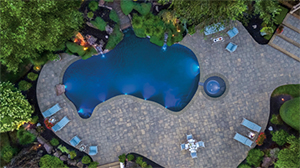 Choosing the right contractor
Before speaking to a contractor it's important to spend some time thinking about the goals for your project, such as what amenities you want to incorporate, the layout of your outdoor space and so on. If you're not sure about how to integrate your ideas into your outdoor space consider hiring a design consultant, who can help to make your vision into a reality! The key is to find a credible and reputable contractor that can correctly and efficiently meet your needs. Visit the job site or read some reviews to make sure you are getting the best service possible! Finding an ICPI certified contractor is stress-free with Cambridge Pavers contractor referral program! The program easily connects you to an approved contractor that will bring all your dreams to life!
Bring your ideas to life
Once you set a goal for your outdoor space ask your contractor to create a 2D or 3D visual of what your dream backyard will look like when it's completed. Designscape Visualizer is free and allows homeowners, contractors and design professionals to design, layout and visualize your dream outdoor project space using Cambridge Pavingstone products!