Small Spaces Big Dreams!
August 02, 2021
For homeowners with small spaces but big dreams, planning is key. Install every accessory you want without worrying about overcrowding your small patio space. Cambridge offers a wide variety of outdoor products to suit any size backyard! With smaller versions of outdoor accessories available such as firepits, fireplaces, and seating walls. The possibilities are endless!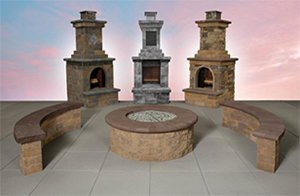 "The Boutique Collection"
If you are a homeowner who has big ideas for a small outdoor space, this collection is perfect for you! Cambridge Pavingstones with ArmorTec makes a collection specific for small spaces called "The Boutique Collection". The Boutique Collection includes fireplaces and seating benches that are smaller in size. These products range in color and design to give homeowners the same great options sized perfectly for their smaller properties! The best part about the boutique collection is that everything is fully assembled and easy to install! Not only will this save you the stress, but it will also save you a lot of time and money!
Create the illusion of a large space
If you want to create the illusion of a larger space, shift the angle of your pavers or install larger sized pavers in order to trick the eye into thinking that the patio space is bigger than it really is! Formatting your pavingstones is key to achieve your desired aesthetic and make your outdoor space your own private oasis.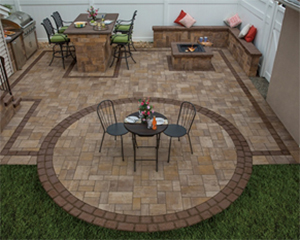 Visualize your ideas
In order to properly plan out your patio, and make sure that all the accessories you like will fit, use the 3D design software that Cambridge offers for free online. With this software, homeowners are able to virtually design their spaces to see which pieces best fit!
Have every outdoor amenity you want without compromising or letting your outdoor space look overwhelming and cluttered with the help of Cambridge Pavingstones! Start planning your outdoor renovation today!