Quick and easy meal prep recipes on the grill
September 02, 2021
Between getting the kids back in the rhythm of the school routine and your own busy schedule, finding time to prepare healthy meals for the whole family can be a challenging task. Say goodbye to the age-old question "What's for dinner?" and start prepping your meals in advance!
Think about how much time we waste figuring out what to cook for dinner every day. Meal prepping allows you to come home from a busy day at work and not have to worry about your family's next meal. All you need to do is take your food out of the fridge, heat it up and voila! Not only will it save you time and money, but it will make sure your whole family has food for the entire week!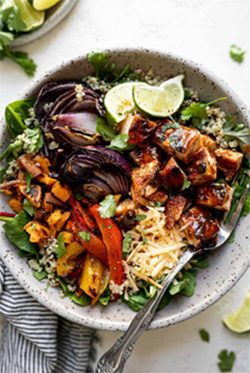 Take it to the grill!
Take advantage of your outdoor grill to cook a week's worth of meals for your whole family with ease. Here are some quick and easy recipes you can make in your outdoor kitchen!
BBQ Chicken Bowls with Grilled Veggies
This healthy recipe is bursting with bold flavors and nutritious vegetables. Perfect for meal prepping for work, school, or a weeknight meal! (recipe and photo courtesy of playswellwithbutter.com)
What you'll need:
• 1 1/2 pounds boneless, skinless chicken breasts or thighs (see Recipe Notes)
• PWWB BBQ Dry Rub, below
• 2 bell peppers sliced from stem into 3–4 flat planks
• 2 red onions peeled & sliced into 1/8ths (with root end intact)
• 1 large sweet potato peeled as desired & sliced into 1/2-inch rounds (crosswise) or planks (lengthwise)
• 1 tablespoon avocado oil
• kosher salt & ground black pepper, to season
• 1/2 cup BBQ sauce of choice
• for serving, as desired: cooked quinoa or rice, mixed greens, shredded cheddar or pepper jack, diced avocado or guacamole, finely chopped cilantro, additional BBQ sauce, etc.

Directions:
1. Prepare the grill for medium-high direct heat grilling, 500-550 degrees F.

2. Mix the BBQ Dry Rub: Add all listed BBQ dry rub ingredients to a small bowl or jar. Whisk or shake to combine. Set aside or store in an airtight container on your spice rack for up to 1 month.

3. Prep the chicken & vegetables: Place the chicken on a plate or small baking sheet. Season with BBQ dry rub, 1 1/2 teaspoons kosher salt, & ground black pepper as desired. Use your hands to rub the spices into the chicken. Set aside. Place the bell peppers, onions, & sweet potato in a mixing bowl or on a small baking sheet. Drizzle with avocado oil. Season with 1/2 teaspoon kosher salt & ground black pepper as desired. Toss to coat. Set aside.

4. Grill the BBQ chicken & vegetables: Place the chicken & vegetables on the preheated grill. Grill the vegetables for 3-4 minutes per side, or until nicely charred. Grill the chicken for 4-5 minutes per side, or until nearly cooked through. Brush the chicken with BBQ sauce & flip the chicken such that the BBQ sauce side is in contact with the grill grates. Cook 1 minute to caramelize the sauce. Repeat, brushing & grilling the second side of the chicken. Transfer the grilled chicken & veggies to a plate or small baking sheet. Once cool enough to handle, chop into bite-sized pieces.

5. Assemble the BBQ chicken bowls & serve: Serve the grilled BBQ chicken & vegetables over rice/quinoa & mixed greens, topping with grated cheese, avocado/guacamole, cilantro, & additional BBQ sauce as desired. Enjoy!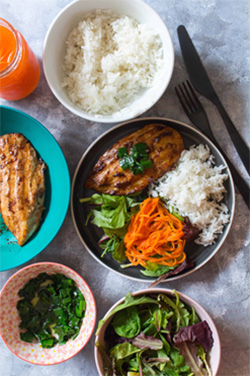 Vietnamese Grilled Chicken
This simple Vietnamese inspired meal is loaded with healthy vegetables and topped with a delicious unique sauce! Serve over a bed of rice and greens to add in a refreshing crunch! (recipe and photos courtesy of carmyy.com)
What you'll need:
• 2 tbsp lemongrass thinly sliced
• 1 shallot minced
• 6 tbsp soy sauce paste, 3 tbsp first then 3 again
• 1 tsp garlic powder
• 1 tbsp oil
• 2 chicken breasts halved into 4 To Serve / Optional
• mixed greens
• rice
• pickled carrots
• scallion garnish

Directions
• In a bowl, mix together the lemongrass, shallot, 3 tbsp (half) the soy sauce paste, garlic powder, and oil. Once everything is fully coated, add the rest of the soy sauce. (You can put all the soy sauce in at once if you'd like but I prefer mixing half first)

• Set aside a spoonful or two of the marinade on the side to use to brush onto the chicken while grilling later.

• Coat your chicken with the rest of the marinade and let it marinade in the fridge for 30 minutes or overnight.

• Once ready, place the chicken onto the grill and grill each side for 6 minutes or until the chicken is cooked through. Brush on the sauce that was set aside onto the chicken if needed.

• Serve with your favorite sides, I choose mixed greens, rice, pickled carrots, and a scallion garnish.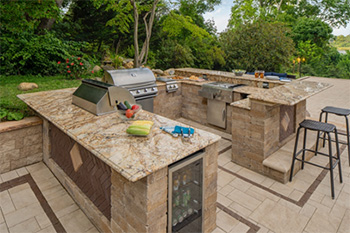 An outdoor kitchen not only adds to the ease of making these recipes but allows you to meal prep without interruptions from the family! With a variety of different styles and colors to choose from, adding a kitchen into your outdoor living space is simple. Make these tasty and simple recipes in your outdoor grill this upcoming fall!