Transitioning your outdoor space from summer to fall
September 03, 2021
It's time to say goodbye to the summer heat and say hello to the crisp autumn breeze! Although fall isn't quite in full swing yet, it's never too early to start transitioning your outdoor space into an autumn oasis your whole family will enjoy!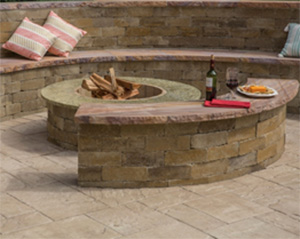 During the cooler months, creating a cozy atmosphere in your outdoor space is a must! As the temperature lowers, it's important to have plenty of blankets and pillows to keep you and your guests comfortable and warm. If you haven't installed a fire pit, now is the perfect time. Imagine having your friends and family gathered around a warm fire on a chilly fall evening, enjoying a glass of wine! Cambridge offers a variety of styles and colors to spice up any outdoor space!
With Cambridge's various options of outdoor amenities, you won't have to worry about sacrificing style and comfort when getting your outdoor space ready for fall! Keep all your plush comfy furniture out during the cooler season under a Cambridge pavilion! A pavilion will shield you from the unpredictable weather and will allow you to entertain your guests all year long. Set up a TV in your pavilion and grab some cozy blankets to watch your favorite movie or spend some quality time with your family!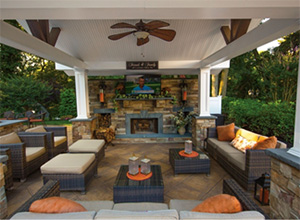 Take ambiance and lightning into account by incorporating LED lights in your outdoor space! Outdoor lighting will allow you to see better at night and also illuminate your patio with a beautiful romantic glow! Set the fall scene by swapping out your bright summer throw pillows and accessories for more deep warm colors. Reds, oranges, browns, and dark purples creates the perfect cozy ambiance. Fill your outdoor space with an autumn aroma by incorporating fall scented candles into your outdoor space such as cinnamon, or pumpkin spice!
The end of summer means it's time to embrace the warm, cozy ambiance of Fall. Transitioning your outdoor space can be made very easy with these tips and tricks!