3 Easy Ways to Cozy up your Patio
October 01, 2021
As the wonderful Fall colors and crisp air arise, now is the perfect time to gather outdoors with your friends and family. Decorate your patio in autumn style to create a cozy atmosphere everyone will love!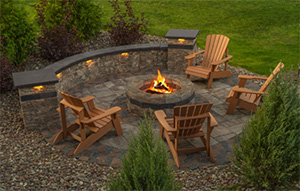 Fire Features
Fire features are the ultimate way to create a cozy Fall night! A cracking warm fire subtlety brightens your outdoor living space while creating a relaxing ambiance that your friends and family will love. A firepit is the perfect way to create an intimate outdoor entertaining space that will extend the life of all your family gatherings and events! Place a few chairs around your firepit and make s'mores with the kids or unwind after a stressful day with a delicious glass of wine! Cambridge offers a variety of fire features to spice up any outdoor living space. Between fireplaces, firepits and fire tables, there is a fire feature that will fit any homeowners' needs!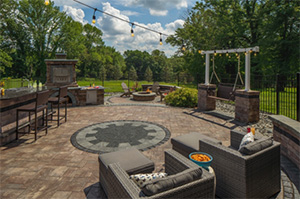 Lighting
As the days get shorter you may find that you need additional lighting while spending time outdoors. Making sure your patio is illuminated is crucial to ensure you and your family can see on those dark Fall evenings. An assortment of string lights above your patio can transform your space into a magical retreat! Hang some colorful lights along the ceiling of your Cambridge pergola or pavilion to create a unique calming ambiance.! String lights can be bought at your local store or you can choose to get creative and start your own outdoor DIY project! Consider investing in hardscape lights that will ensure your outdoor space is illuminated all year long! (photo courtesy of digsdigs.com)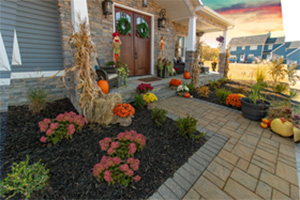 Flowers
Fall flowers come in an array of different colors, shapes, and sizes suitable for any garden style! Flowers like cosmos, mums, marigolds, chrysanthemums and dahlias are all great options to spice up your outdoor space and create warm pops of color. Mix and match different colors to create the look you desire! Balance an eye-catching assortment of pumpkins with tall beautiful planters filled with lush greenery. Make sure to plant your flowers in creative Fall inspired pots.
Grab your cozy pillows and blankets and meet us outside this Fall season