Throwing a Backyard Halloween Party
October 02, 2021
Spooky season is here! Tis' the season for yummy treats, scary movies, and chilly weather. Utilize your outdoor space this Fall and host an unforgettable bewitching bash outside!
Decorations
Choosing a theme is the first step in planning any outdoor event. Whether you prefer to keep it simple with a harvest theme or go above and beyond with ghoulish fun, look for creative ways to transform your outdoor space into a festive oasis! String up some orange and purple lights or use candles to set the scene. Red, orange, and purple are the perfect colors to give your space a dark eerie ambience. Get creative with cobwebs, fake spiders, and floating ghosts. Add some spooky music and sounds to set the scene!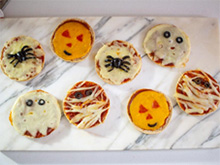 Food
Nothing says Halloween like fun finger foods! Utilize your Cambridge outdoor pizza oven to make some Halloween inspired mini pizzas. These spooky guys will become an instant conversation piece at any party! All you'll need is basic pizza ingredients and toppings. These are easy to make and fun for everyone!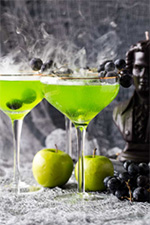 Drinks
Give your guests a boozy treat with signature drinks made at your outdoor Cambridge bar! You can never go wrong with colorful jello-shots or creative Halloween inspired cocktails! Spooky eyeball fruit punch and warm apple cider are always a hit! For an extra magical effect throw in some dry ice into your drinks! (Photo courtesy of theseasidebaker.com)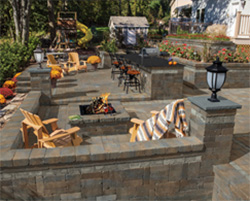 Keepin it cozy
End the night right with some gooey warm smores made at your Cambridge fire pit! A Cambridge Pavingstones fire feature is the perfect addition to any outdoor living space for this time of year! Grab your blankets and gather around the cozy firepit with your friends and family to tell some spooky scary stories!
Cast a spell on all your guests with these creative, fun, and unique Halloween party planning ideas!