Top 3 Thanksgiving recipes for the Grill
November 01, 2021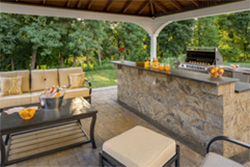 Thanksgiving is coming up and what better way to spend it than outside! Open air dining is a great way to bond with your loved ones and enjoy the fresh fall air while eating all your favorite thanksgiving foods. It can be difficult to host if you are in the house cooking while your guests are outside hanging out by your patio. Grab all your ingredients and head over to your Cambridge outdoor kitchen to enjoy some quality time with your friends and family. Isn't that what thanksgiving is all about? An outdoor kitchen is convenient and makes cleaning up a breeze. Consider switching up the menu and cooking up some of these creative thanksgiving meals on your outdoor grill!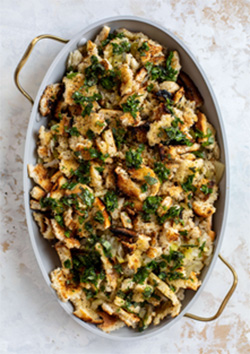 Grilled Bread Stuffing
This modern twist on the classic stuffing is a recipe that will have everyone coming back for more! It's deliciously traditional and flavored to perfection. Making it on the grill will give it a unique taste your oven can't recreate! (photo and recipe courtesy of howsweeteats.com)
What you'll need:
• 2 tablespoons butter melted
• 1 loaf of italian bread, sliced into 1-inch slices (1 standard loaf is about 1 pound of bread)
• 3 tablespoons olive oil
• ½ loaf sourdough bread, torn into pieces
• 1 stick butter, melted
• 2 cups chopped sweet onion
• 1 cup chopped celery
• 4 garlic cloves, minced
• 1 teaspoon salt
• 1 teaspoon freshly cracked black pepper
• ½ cup fresh chopped parsley
• 2 tablespoons chopped fresh sage
• 1 tablespoon chopped fresh rosemary
• 1 tablespoon chopped fresh thyme
• 2 cups chicken or turkey stock
• 2 large eggs
Directions:
1. Preheat your grill to medium-high heat. You want the temperature around 400 to 425 degrees F. Spray or brush a 9x13 inch baking dish (or roasting pan) with the melted butter.

2. Brush both sides of the italian bread slices with olive oil. Once the grill is hot, place the bread on the grates. Grill on both sides until charred and grill marks appear, about 1 to 2 minutes per side. Let the bread cool completely. Once cool, tear or chop the slices into pieces.

3. Preheat the oven to 350 degrees F. Toss together the sourdough pieces of bread and the grilled pieces of bread in the buttered baking dish.

4. Heat a large skillet over medium heat and add the butter. Once melted, stir in the onion, celery, garlic, salt and pepper. Cook, stirring occasionally, until the veggies soften, about 5 to 6 minutes.

5. Pour the entire butter/onion/celery mixture over the bread pieces in the baking dish. Add the fresh herbs on top. Add in 1 cup of stock. Toss everything together.

6. In a small bowl, whisk together the eggs and remaining stock. Pour it over the bread and mix everything well to combine. I like to mix very well so there are no big spots of egg anywhere.

7. Place the stuffing in the oven and roast for 60 to 75 minutes. You want the internal temperature of the stuffing to be 160 degrees F when tested with a thermometer. If the edges start to burn too much, you can tent the stuffing with foil.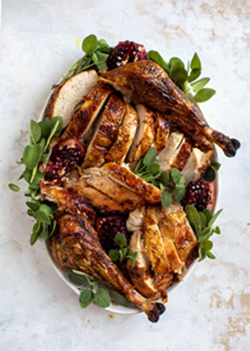 Grilled Turkey
Switch up your traditional Thanksgiving dinner with a grilled turkey. Not only will your turkey be more juicy and tender but the crispy skin will add in a tasty crunch! (photo and recipe courtesy of howsweeteats.com)
What you'll need:
• 1 (15 to 18 pound) whole turkey
• 2 onions, halved
• 2 to 3 lemons, sliced
• 1 bulb of garlic, top sliced off
• 1 large bunch of fresh herbs, including sage, thyme, rosemary
• 8 to 12 tablespoons unsalted butter, softened (enough to cover the entire bird)
• kosher salt
• freshly cracked black pepper
• dried herbs, like sage, thyme and rosemary
• 2 cups chicken stock, plus more if needed during cook time.
Directions:
1. The night before grilling your turkey, remove any giblets and the neck and pat the turkey dry with paper towels. Place the turkey in a large baking dish. At this point, I stick it in the fridge overnight, uncovered – away from anything that it could touch. I've been doing this for a few years and it makes for amazing crispy turkey skin!

2. Remove the turkey from the fridge one hour or so before grilling. Before grilling, make sure your propane tank is full and that you have a backup!

3. Preheat your grill to medium-high heat, about 450 degrees F. I preheat all burners. Prepare a stack of disposable foil roasting pans (about 2 or 3 pans) stacked together.

4. Place the turkey in a roasting pan, breast-side up. Fill the cavity with 1 halved onion, 1 lemon, the garlic bulb and a bunch of fresh herbs. Tie the legs loosely together with kitchen twine. Tuck the wings under the turkey.

5. Rub the turkey all over with the softened butter. Sprinkle it with the salt and the pepper. I also like to add a sprinkling of dried herbs, like thyme, sage and rosemary.

6. Pour 1 to 2 cups chicken stock in the bottom of the roasted pan. Add the other lemon wedges and onions.

7. Place the roasting pan on the grill and turn the center burner to medium-low. Close the grill. Ideally, you want the temperature to be about 425 to 450 degrees F during cook time, so adjust according with your grill.

8. Grill the turkey for 2.5 to 3 hours, checking the bird every 30 minutes or so. You want to be sure you don't run out of propane and that the grill is holding it's temperature. You can baste it with the juices in the bottom of the pan, but only keep the grill open for a minute or so at a time.

9. Halfway through cook time, rotate the roasting pan and add more stock to the bottom of the pan if needed.

10. After 2.5 hours, check the turkey - you want to cook it until the temperature taken in the thigh reaches 180 degrees F.

11. Once the turkey is finished, let it rest for 30 to 60 minutes before slicing.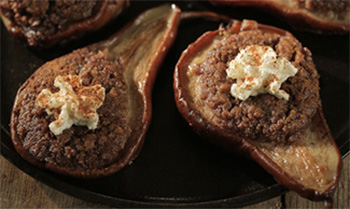 Smoke-Roasted Pears
Satisfy your sweet tooth with these smoked roasted pears. This unique dessert offers the perfect balance of sweet and spicy flavors to end your night right! (photo and recipe courtesy of barbecuebible.com)
What you'll need:
• 4 large ripe pears, preferably with stems
• 1/2 lemon
• 5 tablespoons butter, at room temperature
• 5 tablespoons brown sugar
• 5 tablespoons graham cracker crumbs or ground hazelnuts
• 1/2 teaspoon grated lemon zest
• 1/2 teaspoon ground cinnamon
• 1/4 teaspoon grated nutmeg
• 1/2 teaspoon ground cloves
• 1 tablespoon rum
• 1 teaspoon vanilla extract
• 1 cup Poire Williams (pear brandy), for serving
Directions:
1. Slice each pear in half lengthwise, preserving the stem, if possible. Core the pear halves using a melon baller or small spoon. Rub the cut sides with the lemon to prevent browning. Squeeze a few drops of lemon juice into each cavity.

2. Beat the butter and brown sugar in a mixing bowl with a wooden spoon. Beat in the graham cracker crumbs, lemon zest, spices, rum, and vanilla. Spoon the mixture into the pear cavities.

3. Set up the grill for indirect grilling and preheat to medium. If using a gas grill, place the wood chips in the smoker box or in a smoker pouch and preheat on high until you see smoke, then reduce the heat to medium.

4. Arrange the filled pear halves in a single layer in the prepared aluminum foil pan. Place the pan in the center of the hot grate away from the heat. If using a charcoal grill, toss the wood chips on the coals. Cover the grill and smoke-roast the pears until nicely browned and soft on the sides, 40 minutes to 1 hour.

5. Transfer the pears to a fireproof platter. Gently warm the Poire Williams in a saucepan but do not let it boil. (It should be body temperature warm.) Touch a match to it to set it on fire, then pour the flaming brandy over the pears. Host a memorable thanksgiving dinner that will impress all your guests and remind them that we all have so much to be thankful for.